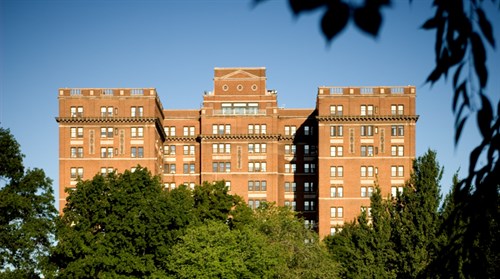 The Intersection of Culture & Great Neighbors
When the elegant Judson Manor opened in 1923, The Plain Dealer touted its architectural "impressiveness" and stated that its "interior is a treasure house of good taste, artistry and comfort devices." Constructed as the crown jewel of the city, it quickly became home to many of Cleveland's influential families. This 1920s architectural gem has been carefully restored to preserve the integrity of its old-world charm and unique spaces. From its rooftop terrace, this retirement living community offers stunning 360⁰ views of University Circle and magnificent sunsets over the city of Cleveland.
Simply open your door and step into urban retirement living at its finest
For walkability, Judson Manor runs circles around any other retirement living community location in Ohio! Located on the edge of the Cleveland Museum of Art, Judson Manor makes it easy to enjoy a concert performed by the world-renowned Cleveland Orchestra, take in a show at The Cleveland Play House or experience the natural beauty within the Cleveland Botanical Garden. If you prefer, walk along University Circle's vibrant main street, and enjoy its many restaurants and shops.
For those who want active, independent living in the heart of Cleveland, Ohio, it doesn't get better than Judson Manor. At Judson Manor, you decide the who, what, when and where in your life.
There are so many choices, we can't name them all, but here are a few:
Dining preferences
Engaging activities
Wonderful trips,
Learning opportunities
Creative expression opportunities
And more!
Residents within this luxury University Circle retirement living community are also welcome to share in our South Franklin Circle community's offerings in Chagrin Falls, including Radius Restaurant as well as the attractions of the Chagrin Valley and popular South Franklin Circle arts, cultural and intellectual programs including our Dialogue Series that features forums from world class art historians, theater directors and authors.
Also enjoy offerings at our Judson Park community in Cleveland Heights which include our resident-run art gallery featuring local and international artists.