Choose Your Level of Care
With a wide variety of outstanding living options, services, programs and amenities, retirement living at South Franklin Circle provides smart choices for individuals who want to choose the way they live now and in the future. For peace of mind, residents can rely on a comprehensive safety net of healthcare services 24 hours a day, seven days a week should a need arise. Making decisions about when and where to access services is the choice of the individual.
Need a helping hand? South Franklin Circle includes services such as 24-hour nurse support, laundry, various dining options, valet parking and so much more. In addition, the Crane House Health Center at South Franklin Circle is available to residents living in Independent living whether they need temporary help following a surgery or are recovering from an illness. As an Independent living resident you have access to 10 free care days per year in Crane House after living at South Franklin for one year.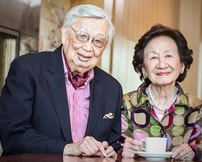 "Knowing we'd have access to high-quality healthcare was an integral part of our decision to move to South Franklin Circle."
Meet Resident Dr. Roger Hsu