Former Judson artist-in-residence Caitlin Lynch returned to Cleveland on Sunday, October 12, to celebrate her wedding for the second time – this time with her Judson family.
Resident Clara Catliota masterminded the event, complete with a ceremonial cutting of the cake.
"I couldn't attend her wedding in Oregon, so we threw a party here instead!" she says. Clara set the date to coincide with Caitlin's performance schedule with Cleveland's City Music. Caitlin and husband Tim Mauthe now live in Manhattan.
A Judson Manor Courtship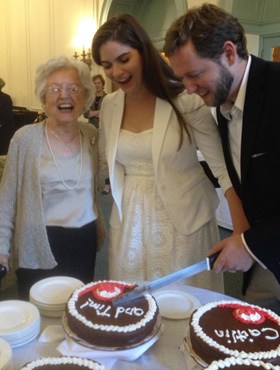 Caitlin fondly recalled the role Judson Manor played in her courtship with Tim, a fellow violist and Cleveland Institute of Music student.
"We had our first date in my apartment at the Manor," says Caitlin. "I made him dinner."
Fast-forward six months and Tim surprised Caitlin with a marriage proposal on the Manor's rooftop. "A resident tending to his garden plot witnessed the whole thing!" she laughs.
Forging Lifelong Friendships
The friendship between Clara and Caitlin is a wonderful example of the special bonds that form between Judson residents and the students who participate in Judson's Artist-in-Residence program. Beginning as neighbors, the two quickly became friends and have kept in touch ever since Caitlin moved away. As Caitlin planned her wedding, she even asked Clara to be her flower girl. Clara demurred, but offered the party instead.
Caitlin was one of the first students to participate in the Artist-in-Residence program, where graduate students from the Cleveland Institute of Music live at Judson Manor at no charge, in exchange for performing for the residents and providing other cultural programming at all three of Judson's retirement communities.
The program was recently featured on CBS's On the Road with Steve Hartman. Watch the video below:
Interested in more information on the Judson Artist-in-Residence program? Contact us today!
---