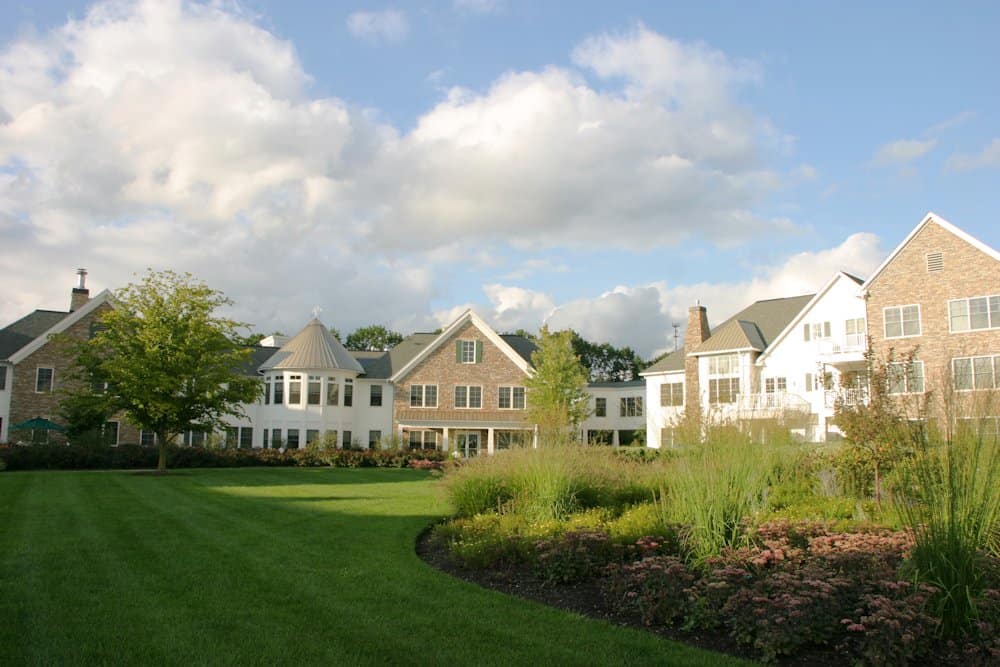 A Continuing Care Retirement Community (CCRC) is an organization that provides housing, social and healthcare services to older adults.
While there are a variety of types of CCRCs, generally they are multi-building campuses or large single buildings that provide independent living cottages or apartments, some type of supportive health services (usually skilled nursing and assisted living apartments) and social and recreational services such as dining areas, activity programs, exercise facilities, libraries, computer centers, craft and hobby areas are common as well as housekeeping and laundry services.
Most CCRCs require an entrance fee, which may or may not be refundable, and a monthly fee which varies depending on the type of CCRC contract.
Who pays for living in a CCRC?
CCRC's are a contractual agreement between the resident and the CCRC.
There are four types of CCRC's each with different entrance fees requirements and monthly fee amounts.
Type A (Extensive Contract). Under a Type A or extensive contract, a resident typically pays an upfront entrance fee and an ongoing monthly fee for the right to live in an independent apartment and also receive certain services and amenities. Residents who require assistance or health care may receive some services in their apartment or they may move to an assisted living or skilled nursing portion of the community, but they pay essentially the same monthly fee they were paying in their apartment.  The entrance fee may or may not be partially refundable upon termination of the contract.
Type B (Modified Contract). Under a Type B or modified contract, a resident will also pay an entrance fee and an ongoing monthly fee for the right to live in an apartment. However, in Type B contract, a CCRC is obligated to provide an appropriate level of assisted living or skilled nursing as in a Type A contract, but only for a specific period of time (e.g. 30-60 days) or at a discounted rate for a stated period of time or indefinitely, after which the market rate is paid.  The entrance fee may or may not be partially refundable.
Type C (Fee for Service). A Type C contract generally also requires an entrance and a monthly fee, but the fees do not include any free or discounted health care or assisted living services. Under a Type C contract, residents pay the standard per diem if they need assisted living or nursing services, however they may receive priority or guaranteed admission for those services.
Rental CCRC. While generally not thought of as true CCRC since there is no or minimal entrance fee, some communities which have independent apartments and offer some kinds of assisted living or nursing services will use the title of a CCRC. In a Rental Type CCRC, the resident pays the prevailing rate for all services offered.
Many CCRCs are certified to provide Medicare services so certain skilled nursing and other specific services may be paid for in part by Medicare. A few CCRCs are certified to provide Medicaid services, which will pay for primarily nursing care.
Some CCRCs have long-term care insurance available as part of their contract to pay for certain health care services. Independently purchased long-term care insurance may or may not pay for care in a CCRC. Prospective CCRC residents need to check with the company providing the policy.
What services does a CCRC provide?
As mentioned above, a CCRC will provide a variety of types of cottages or apartments, from studios to two and three bedrooms with certain housekeeping and laundry services included.
A CCRC will generally offer a meal plan of one-to-three meals a day and a host of other amenities such as scheduled activities and educational programs, exercise and wellness centers, hobby and craft area, libraries and computer rooms, barber and beauty shops and transportation.
Health-related services may include home health care, therapy services (physical, speech, occupational), assisted living both in apartments and in designated assisted living portions of the campus and a skilled nursing center. Many CCRCs provide these services directly, some will be provided by third party health care providers.
What questions should I ask a CCRC?
There is a saying among CCRCs that "once you've seen one CCRC, you've seen one CCRC."  The financial term and contracts vary significantly among CCRC in both price and types of contracts offered.  Likewise, the programs, services and amenities vary significantly between CCRCs.
The majority of CCRCs are owned and operated by not-for profit corporations and may be a single site CCRC or part of a multi-community provider.
The questions you should ask center on three topics:
Who owns and operates the community?
What contract types are available?
What are the services and amenities the community provides?
A sampling of questions to ask:
Who owns or sponsors the community? Who manages it?
How long has the CCRC been open?
Are there other communities owned by the same entity?
What is the community's mission statement or operating philosophy? Is the CCRC accredited?
What kinds of contracts are offered?
Is any portion of the entrance fee refundable?
What services, amenities and health care services are included in the monthly fee or as part of the entrance fee?
How are monthly fee increases calculated?
What are the apartment sizes available and what are the differences in costs? What is the occupancy record of the community?
Can I visit and have a meal and talk to residents?
What kinds of health care services does the CCRC offer? Does the CCRC provide those or are they provided by an outside 3rd party?
What are the meal and dining policies, hours, number of meals, and what type of meal services are available?
Is housekeeping and laundry included?
If I want extra services, are they available and how much do they cost.
Does the CCRC provide maintenance services?
Does the CCRC have an exercise or wellness programs?
What are the activities and social programs?
Are there educational opportunities?
Do you offer religious services?
Are there opportunities to volunteer in the area?
These are just a sample of the types of questions a prospective resident needs to ask.  It is also advisable to visit two-to-three times at different times of the day to get a better sense of the atmosphere in the community.
What value does a CCRC offer older adults and their loved ones?
A CCRC offers a blend of several components, part housing, part health care, part recreational and part social.  It provides a senior the security of knowing they have all these services available by people they know and trust.
To many seniors it offers the best of all possible worlds. On one hand you have the independence and privacy of living in your own cottage or apartment and on the other hand there are tremendous opportunities to meet new people and enjoy an active social and recreational life, all this while knowing there are other services available if you should need them.
Learn About Judson's CCRCs