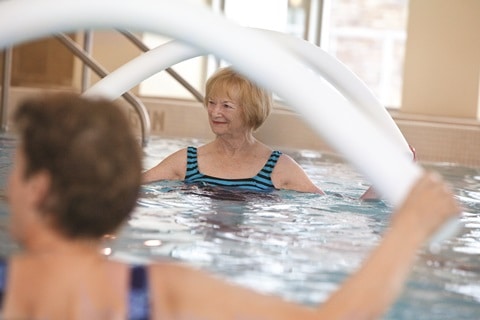 South Franklin Circle Wellness Center Memberships are included in South Franklin Circle residents' monthly fee. A limited number of memberships to the South Franklin Circle Wellness Center are available to the public.
Membership includes:
Water exercise classes that meet weekdays
Land exercise classes that meet weekdays
Strength Training
Hot Tub
Showers, dressing rooms and towels provided
Strength Training
Tools to meet your strength training needs—free weights, stretch bands and state-of-the-art resistance machines—are available at South Franklin Circle's Wellness Center. After a private consultation, a fitness trainer can design a fitness plan tailored to your needs.
Land Exercise Classes
Classes taught by certified instructors, last 30-to-45 minutes and meet five days a week. Equipment, mats and towels provided.
Beginner Balance and Advanced Balance* focus on balance-improving exercises for strengthening the lower body, core and posture muscles. Participants move around the room and do a variety of seated and standing exercises. Class times vary.*First time participants please become familiar with Beginner Balance before moving on to the Advanced Balance classes
Gentle Conditioning is dedicated to improve functional movement, strength and range of motion. Most of the exercises are seated and some are standing by the chair or railing.
Strength and Stretch is designed for strength development using various exercises, weights, bands, balls and FUN! Stretching and core work will be done on the floor. Mats are provided.
Gentle Yoga is meditation in motion, as you focus on your postures and breathing. Yoga benefits every part of your body inside and out, not to mention the calming affect it has on your mind. Motions are performed in a chair as well as on the floor. Mats are provided.
Improvement Through Movement Explore this evidence based program designed for people living with Parkinson's. Through functional fitness routines, participants have observed improvement in posture, balance and mobility as well as gaining a sense of independence.
Tai Chi Improve balance – Strengthen muscles – Relieve stress – Ease Arthritis
Exercise machines are available for use in the South Franklin Circle Fitness Center before 8:00 a.m. or after 11:00 a.m. on weekdays. No restrictions on weekends.
Fee-Based Classes
The following classes are offered at a cost of $40.00 per 8 week session.
Meditation Learn how to meditate and have fun in a process.
Water Exercise Classes
Certified instructors teach classes that last 45 minutes. Showers, dressing rooms and towels provided.
Aqua Aerobics is designed to promote cardiovascular fitness by increasing circulation and respiration. Increased muscle strength, coordination, endurance, balance, stretching and the use of water weights and "noodles" are included in this great total body workout.
Deep Water Aerobics is in the deep water using a buoyancy belt. The exercises and water's natural resistance will provide a complete muscular and cardiovascular workout.
Pool Facts
Water temperature: 88°F
Pool dimensions: 75′ long x 20′ wide
Access by stairs or lift chair.
Swim Lessons
Private and semi-private lessons are available for all ages by appointment only.
Hot Tub
Residents and guests may use the wonderfully relaxing hot tub if medically appropriate. Water temperature is 103 degrees.
Outpatient Therapies
With a physicians' prescription arrangements for the appropriate therapy may be made by calling the Wellness Center Office, Call (440) 247-1348.