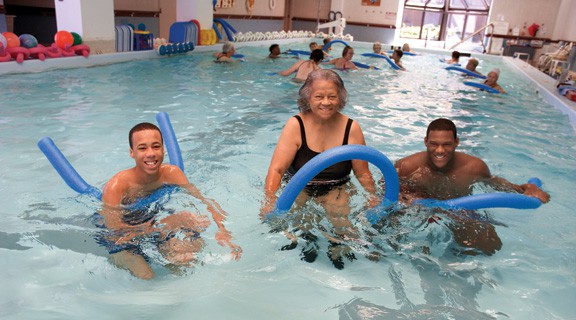 Judson Park Wellness Center memberships are included in Judson Park residents' monthly fee. Memberships are also available to individuals outside of Judson who wish to take advantage of our Health and Wellness offerings.
Membership includes:
Water exercise classes
Land exercise classes
Strength Training
Hot Tub
Showers, dressing rooms and towels provided
Strength Training
Tools to meet your strength training needs—free weights, stretch bands and state-of-the-art resistance machines—are available at Judson's Wellness Center. After a private consultation, a fitness trainer can design an individual, progressive fitness plan once your doctor gives approval. Equipment is available 24 hours a day, seven days a week.
Land Exercise Classes
Classes are taught by certified instructors and last 30-45 minutes and meet three-to-four times per week. Equipment, mats and towels provided. Class size is limited due to space.
Arthritis Foundation Exercise Program focuses on all the joints, range of motion, strength and endurance. No jogging or jumping.
Balance Clinic focuses on balance-improving exercises for strengthening the lower body and proper walking techniques.
Strength Training classes follow the Joan Pagano method of strength development using exercise, weights, bands and balls. Joan is a personal trainer in New York City and has written several books on the subject.
Yoga combines aerobic exercise with strength and flexibility techniques, creating a total body workout.
Improvement Through Movement – Join us as we explore this evidence-based program for people with Parkinson's. Participants have observed improvements in posture, balance and mobility, as well as gained a renewed sense of independence. Learn more about Delay the Disease >
Exercise machines are available for use in the Weight Room, Judson Park 24 hours a day, seven days a week.
Water Exercise Classes
Certified instructors teach classes that last 45 minutes. Showers, dressing rooms and towels provided. Class size is limited due to space.
Water Aerobics is designed to promote cardiovascular fitness by increasing circulation and respiration. It includes vigorous movements, jumping and jogging and uses water weights, balls and "noodles" to strengthen upper and lower body.
Water Power Walking does not include jumping or jogging. It is for those who should not be jarring their joints but DO want to improve cardiovascular fitness. Water weights and "noodles" are often used to help strengthen the upper and lower body.
Arthritis Foundation Water Exercise are 72 exercises used to improve flexibility, range of motion, strength and endurance. The buoyancy and warmth of the water facilitates movement.
Pool Facts
Water temperature: 88°F
Pool dimensions: 50′ long x 20′ wide
Access by stairs or lift chair.
Hot Tub
Residents and guests may use the wonderfully relaxing hot tub if medically appropriate. Water temperature is 102 degrees.
Swim Lessons
Private and semi-private lessons for all ages.
Call Marcey Mougey (216) 791-2393
Massage Therapy
Judson offers therapeutic massage by our licensed massage therapist who has years of experience with residents, staff and members of the community.
Craniosacral Therapy
Biodynamic Craniosacral Therapy (BCST) is a powerful approach to wholeness that involves a gentle, non-invasive, hands-on method of "listening" (with and through the hands) to the body's subtle rhythms. It invites the body's own self-regulating capabilities to begin to resolve patterns of pain, stress and trauma. It is appropriate for adults, children and infants. By beginning to embody and practice these skills, participants will have an invaluable tool for self-care, great health and greater well-being. Sessions are by appointment only. Call Marcey Mougey at 216-791-2393.
Outpatient Therapies
With a physicians' prescription arrangements for the appropriate therapy may be made by calling the Wellness Center Office, (216) 791-2968.