Date: Tue., April 27, 2021, 5:30 am
Location: Virtual Event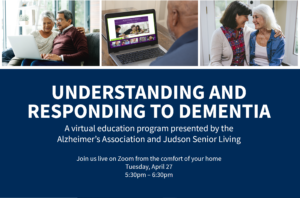 Please join us live on Zoom for an engaging presentation, followed by answers to your questions. The Alzheimer's Association provides care and support to those affected by Alzheimer's and other dementia. This presentation will focus on caregiver tips and strategies to respond to some common behaviors exhibited by individuals living with dementia.
Presented by:
Jessica Kulczycki, Community Life and CARE Director, Judson Park
Pam Trevis, Sales Director, Judson Manor
Doug Berger, Sales Director, Judson Park
To register for this complimentary virtual Zoom presentation, please call 800-272-3900.
Once registered, you will receive details on how to access the webinar in the confirmation email.