Date: Wed., April 5, 2017, 7:30 pm
Location: South Franklin Circle
Please join us for a thought-provoking presentation from Aaron David Miller, Vice- President for New Initiatives and a Distinguished Fellow at the Woodrow Wilson International Center for Scholars
The Chautauqua Room
South Franklin Circle Community Center
16575 S. Franklin Street
Chagrin Falls, OH 44023
Complimentary Valet Parking
About Aaron David Miller
Aaron David Miller is currently Vice- President for New Initiatives and a Distinguished Fellow at the Woodrow Wilson International Center for Scholars in Washington, DC. For two decades he served in the Department of State as an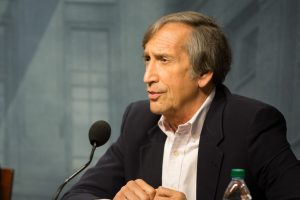 analyst, negotiator and adviser on Middle Eastern issues to Republican and Democratic Secretaries of State. Between 2003 and 2006, he also served as president of Seeds of Peace, an internationally recognized program in conflict resolution and coexistence. He has written five books, including his most recent The End of Greatness: Why America Can't Have (and Doesn't Want) Another Great President (Palgrave, 2014). His articles have appeared in the Washington Post, the New York Times, the Los Angeles Times; and his column "Reality Check" appears in Foreign Policy Magazine. He is a CNN Global Affairs Analyst and a frequent commentator on NPR, BBC and Sirius XM radio.
The South Franklin Circle Dialogue Series offers stimulating forums designed to inform and inspire the community, and is supported through donations to the Judson Foundation.
To RSVP for this complimentary event, please call (440) 247-1300 or complete and submit the form below.
Presented in collaboration with