If you ever desire a mouthwatering treat or are in need of a tasty baking recipe, look no further for help than Judson Manor resident Mark Corcoran. Mark, a longtime resident of the Manor and co-director of Theatre in the Circle, enjoys baking in his spare time and often shares his delicious creations with (lucky) fellow residents.
"For me, baking is a very transformative experience," Mark states. "Taking ingredients which are basically one-note on their own and combining them into something completely different and dimensional is a wonderful process. Baking has become a meditative exercise for me. I can shut out other thoughts and just concentrate on the ingredients, techniques, temperature, and time. It's also a tremendous exercise in patience; you can't rush anything."
When asked why people should try to take up baking, Mark offers up some advice. "Some people say they can't bake, but anyone who can read can bake if they really want to and will need the commitment of time and attention. Baking is all about discipline and patience."
With chilly fall-time weather descending upon us, the desire to retreat indoors and try one's hand at creating a homemade baked good has never been stronger. Below are two of Mark's favorite recipes to enjoy during fall time. Try them out for yourself and revel in the delicious reward of your hard work!
Dark Chocolate-Olive Oil Skillet Banana Bread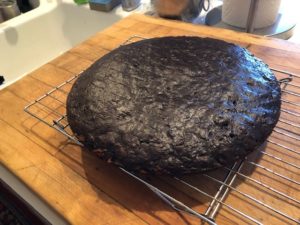 "You can talk yourself into believing this is incredibly healthy since it has no butter and not much sugar," Mark says. "It's a lot more like a dense, moist cake than any fruit bread and really luxurious. Serve it with whipped cream or ice cream for a company-worthy dessert."
Ingredients:
1 1/2 cups (180g) unbleached all-purpose flour
1/2 cup (43g) unsweetened cocoa (regular or Dutch-process)
1 teaspoon of espresso powder
3/4 cup (140g) dark brown sugar
3/4 teaspoon baking soda
3/4 teaspoon sea salt or kosher salt
1/3 cup (80ml) extra-virgin olive oil
2 large eggs, lightly beaten
1 1/2 cups (350g) ultra ripe bananas (from about 3 large bananas), mashed with a fork into a smooth puree
1/4 cup (60g) sour cream or plain Greek yogurt (full fat is best)
1 1/2 teaspoons vanilla extract
1 cup (113g) coarsely chopped dark chocolate (equals a 4-ounce bar), or an equal amount of dark chocolate chips
1/2 cup (65g) chopped toasted pecans, hazelnuts or walnuts (optional)
Directions:
"Preheat the oven to 350° F. Generously butter or grease with olive oil a 10-inch enameled or well-seasoned cast-iron skillet, or a 9×5-inch loaf pan. (If your skillet isn't well-seasoned, you can line the bottom with a round of parchment paper.)"
"In a large bowl, whisk together the flour, cocoa, brown sugar, baking soda, espresso powder and salt."
"In a separate bowl, mix together the olive oil, eggs, mashed banana, sour cream, and vanilla. Pour the banana mixture into the flour mixture and fold with a spatula until just combined. Fold in the chocolate and pecans (if using), again just until combined. Scrape the batter into the prepared skillet."
"Bake until a toothpick or knife inserted into the center of the bread comes out with just a few moist crumbs, about 28 to 35 minutes (start checking at about 22 minutes for doneness). Let cool in skillet for about 20 to 30 minutes, and serve warm or at room temperature, straight from the pan. (If using a loaf pan, the baking time will be closer to 55 to 65 minutes. Let cool in the loaf pan for about 10 to 15 minutes, then run a knife around the edge of the pan and invert it onto a cooling rack.)"
Fregolotta (Italian Jam Shortbread Tart)

"This a great make-ahead dessert that's always a crowd-pleaser," Mark states. "No crust to roll, just pat it into the tart pan. Use any jam you like, but my personal favorite is F.R.O.G. jam (fig, raspberry, orange and ginger) from Walnut Creek Foods (Amazon.com)."
Ingredients:
12 tablespoons (6 ounces) unsalted butter, softened
1/2 cup (3 1/2 ounces) sugar
1/4 teaspoon pure almond extract
1 1/2 cups (7 1/2 ounces) unbleached all-purpose flour
1/8 teaspoon salt
1/2 cup (4 ounces) not too sweet jam, any flavor
1/2 cup (1 ounce) sliced and toasted almonds
Directions:
"Heat the oven to 350 °F. Position an oven rack in the center of oven."
"Place the butter, and sugar in the bowl of an electric mixer fitted wtih the paddle attachment (a handheld mixer is fine; just allow a little extra time to reach each stage in the recipe). Beat on medium speed until the mixture is very light in color, about 3 to 4 minutes. Use a rubber spatula to scrape down the sides of the bowl. Add the almond extract and blend well, another 30 seconds."
"In a separate bowl, whisk together the flour and salt. Add the dry ingredients to the butter mixture and combine on a low speed just until the dough is thoroughly combined, about 30 to 40 seconds. Measure out 1/2 cup of the dough and set it on a small plate, then place the plate in the freezer (this will chill the dough and make it easier to crumble)."
"Press the remaining dough into a 9 or 9 1/2-inch tart pan in an even layer (the edges can be a little higher than the rest, just be careful that the center is not the thickest point). If the dough is too sticky, just chill it briefly."
"Use a small offset spatula or the back of a spoon to spread the jam in a thin, even layer over the surface of the dough, leaving a border of about 1-inch around the edges."
"Remove the reserved dough from the freezer and crumble it into small pieces over the layer of the jam, allowing some of the jam to peek through. Sprinkle the sliced almonds evenly over the top of the tart."
"Bake for 40 to 50 minutes, or until the topping is a beautiful golden brown. Remove from the oven and place on a rack to cool completely. If your tart pan has a removable bottom, to unmold, center the tart pan on top of a large can so that it balances midair as the rim of the tart pan falls to the counter. Leave the bottom of the pan under the tart for support, or run a large spatula between the crust and the pan, using the spatula to guide the tart onto a plate. Alternately, cut wedges straight from the pan. Serve with tart whipped cream."
"Store the tart covered in plastic wrap, at room temperature for 3 to 4 days. The tart can be assembled ahead and frozen for up to 1 month. Assemble the tart, then wrap tightly twice in plastic wrap and freeze on a flat surface — it may require a few minutes extra of baking time."