It's supposed to be a retirement community, but not every Judson resident is retired. At least three individuals living here are young artists, and they love interacting with their more mature "housemates."
Judson's Artists-in-Residence, Cleveland Institute of Art (CIA) juniors Ryan Laganson, an interior architecture major, and photography student Anna Lattanzio – along with Ursuline College graduate Cosette Ghanem – are back at Judson Manor for a second year. Their contracts call for them to teach art to residents for five hours each week in exchange for free housing, but their lives here encompass much more than those few hours in the classroom.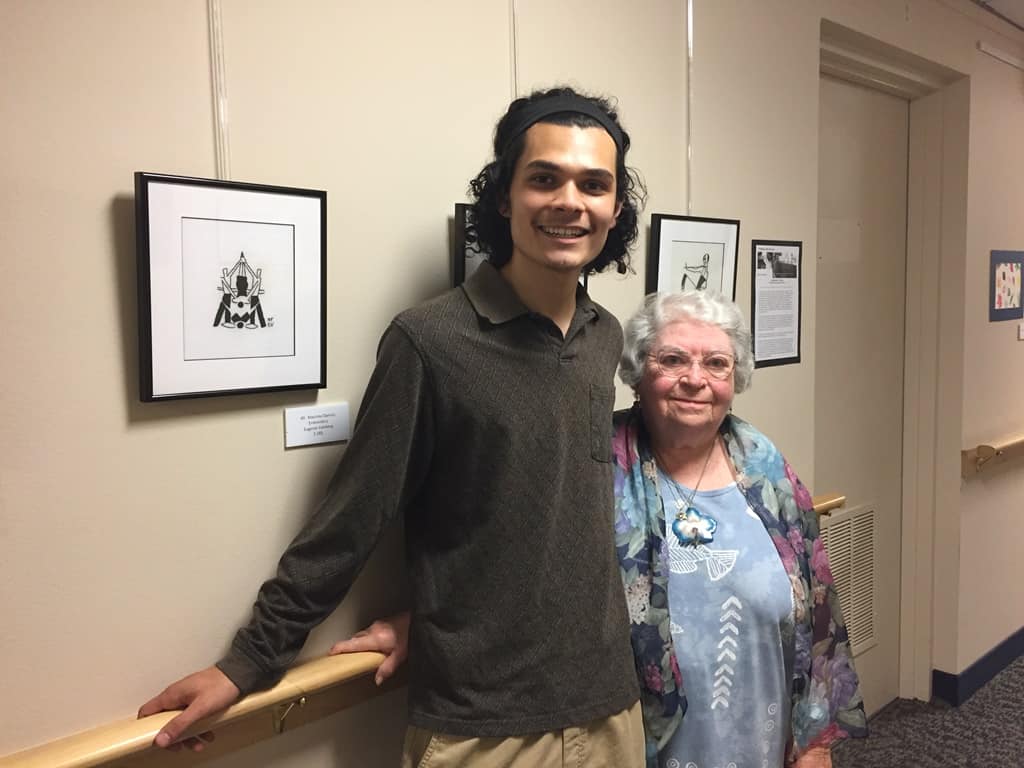 "We help Judson with special projects," Ryan says, using his and Anna's work designing sets for Theatre in the Circle, a semi-pro community run by two Judson Manor residents, as an example. Because of his interior architecture training, he adds, "I'm also doing some renderings for the renovation of the ballroom here." Judson Manor, he explains, was a hotel in the 1920s and still sports its elegant ballroom and lobby. "These are niche opportunities – you can't plan for them," he says, "they just happen."
Judson taps into Anna's prior experience, too: as a high school student she waited tables at a retirement community in her hometown of Willoughby, and now she does the same work part-time at Judson. "One of the residents actually recommended me for this job," which she sees as a way of getting to know residents who might not attend her workshops.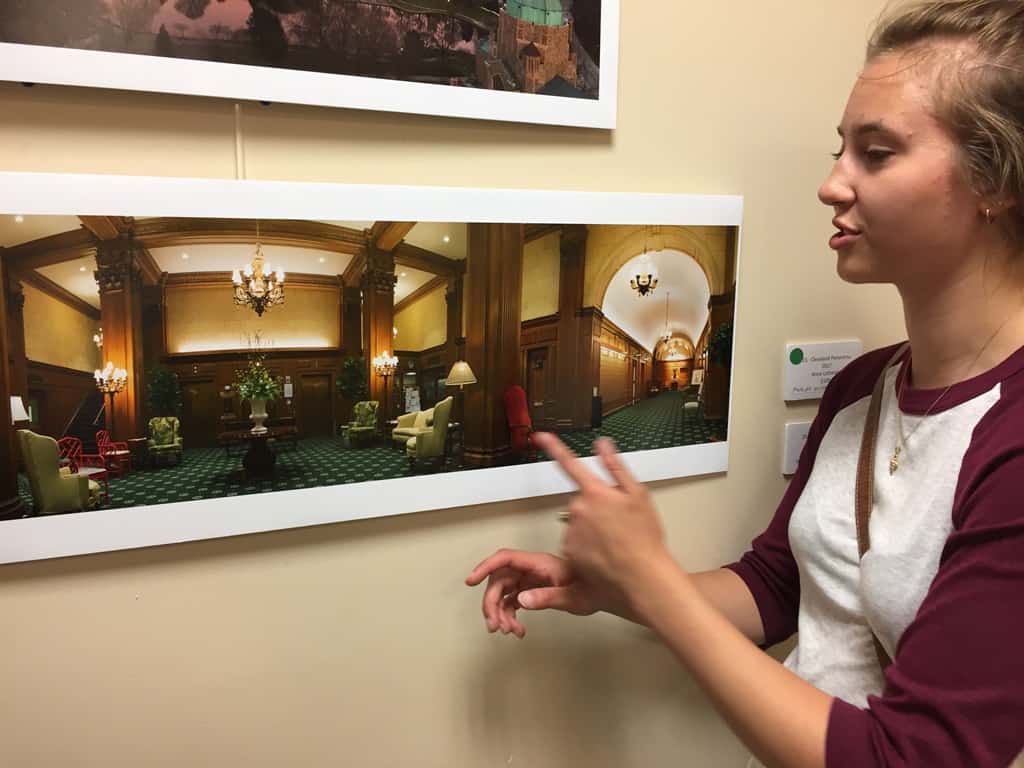 But teaching art classes keeps both Anna and Ryan busy, planning and preparing so they can "hit the bases of everything residents enjoy," Anna says. The workshops are a mix of hands-on learning and lectures; past sessions have included projects as diverse as papier-mâché; color wheels ("so residents get a better sense of how to mix and match colors," Anna says); making carved stamps; alcohol ink tiles and mugs; photo transfers; bookmaking; marbling on paper; and art or photography history. They've also escorted residents on field trips to Cleveland Botanical Garden, West Side Market and other iconic local sites, as well as art centers such as the West 78th Street Studios and Museum of Contemporary Art.
They even introduce residents to art techniques they may not know about, such as cyanotype – a photographic process that produces cyan-blue images. But, Ryan says he likes to tell residents, "art doesn't come with a test after you look at a piece.
There's no right or wrong way to see art; for me, it is more of a self-reflection, understanding why I prefer certain works over others. I attempt to comprehend
what the artist was signifying, but it's fine to visually admire the work solely, too.
I want to help them bridge that gap."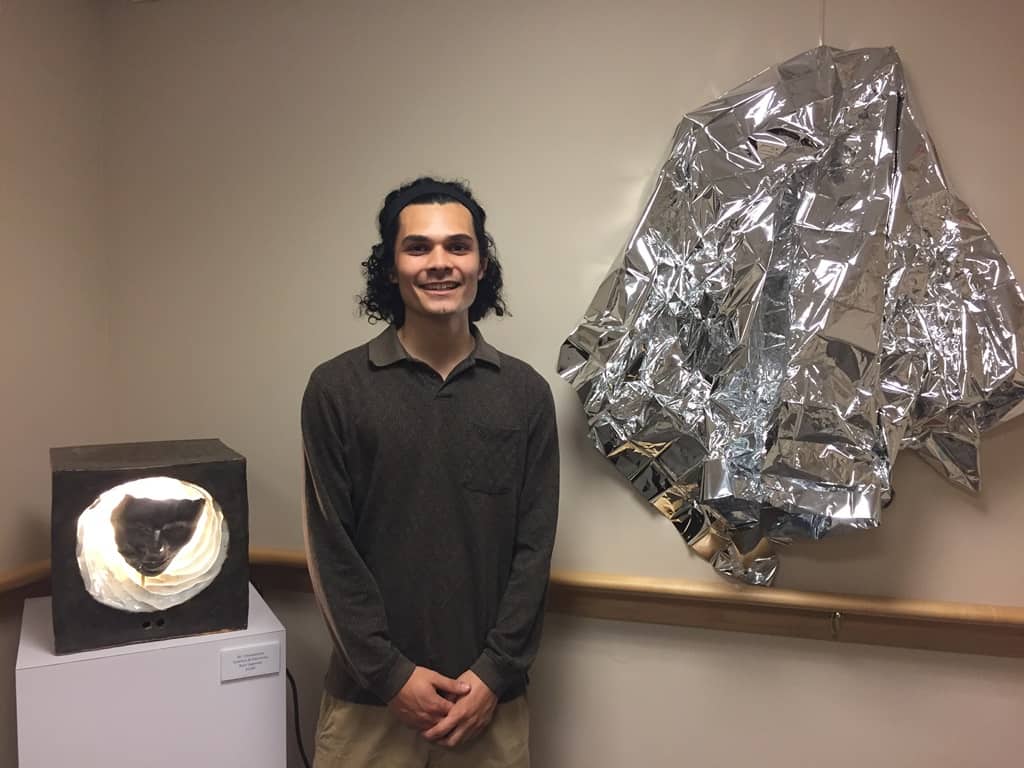 Ryan's most recent work aims to leap this hurtle, plus it combines all of his interests. He is one of Case Western Reserve University's Think[box] grant recipients, given to students who take initiative to lead their own independent projects related to innovation and technology.
Ryan is building multiple custom, large-format cameras and creating custom lights and light meters to shoot ambrotypes—much different than the traditional means used when the process was invented in the 1850's. Studying interior architecture, in fact, is his way of blending his passion for art with his love of science and math.
Both students live on Judson Manor's ninth floor – Anna in a studio apartment, Ryan in a one-bedroom. ("They're nice," he says, "the same apartments that residents live in. We're not in the basement or anything.")
What both Anna and Ryan enjoy most about their residencies, though, is getting to know the residents, learning about their lives, and sharing their appreciation for art with them.
"It's really great that Judson recognizes that the arts are important and we should support them," Ryan says. "Music and art do improve our quality of life. Look at graphic design – it's all around us. It makes me happy to open residents' eyes to something they've never realized before, and share a new understanding with them—as they do for us too!"
You can see some of Anna, Ryan and Cosette's work in "Creativity Across Generations: Collaboration and Community," an exhibit currently on view in the Streeter Gallery at Judson Park through October 10.