Stacy Brubaker is the Phelps Initiative Nurse Practitioner at Judson, as part of the Phelps Collaborative for Older Adult and Family Engagement.
The purpose of this in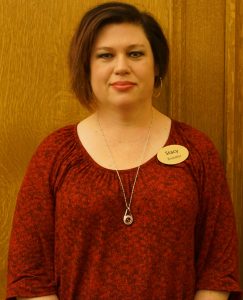 itiative is to educate nursing students at the Frances Payne Bolton School of Nursing at Case Western Reserve University about geriatric care, while educating, providing clinical practice and conducting research on older adults at Judson. Stacy is a Registered Nurse, a Certified Nurse Practitioner and has a Master of Science in Nursing.
'Tis the season for travel, shopping, spending time with friends and family, and ushering in the New Year! The holidays can be such a joyful time, but for some, it can also be full of challenges. The weather can pose hazards, the hustle and bustle may produce feelings of stress and anxiety, and some may struggle with loneliness or depression. Below are some tips to help you stay safe and happy this holiday season.
Safety
Physical: this is the time of year when the snow falls and the cold temperatures make sidewalks icy, posing a risk of falling and injury. It is important to wear the proper footwear both when inside and outside the home. According to the VA's Journal of Rehabilitation Research and Development, older adults should wear thin, well-fitted shoes with low heels and firm slip-resistant soles. A tread sole and treaded beveled heel may also be helpful when walking on wet or slippery surfaces. Use any assistive devices needed and don't be shy about asking for additional help when going outside in poor conditions. Lastly, be mindful of additional falling hazards during the holidays, such as decorations in your home or frequently used walkways.
Financial: according to a study done at the Center for Gerontology at Virginia Tech, older adults are more vulnerable to financial abuse during the holidays possibly due to more frequent visitors in the home and other activities that serve as distractions from normal routines. To prevent financial abuse, consider the following:
Do not accept calls from phone solicitors.
Make sure your passwords are protected, especially those associated with your bank, ATM or computer.
Know where your financial documents are, such as a living will and power of attorney.
When shopping on the internet, change your passwords regularly, check your credit card and bank statements for any unfamiliar charges and shop from sites beginning with "https" (these are secure) rather than "http."
Holiday blues
Despite the media telling us that we are supposed to be happy and joyful while spending time with family during the holidays, it can be a difficult time of year for some. Millions of people over age 65 are depressed and according to Nicole Valtorta and Barbara Hanratty, loneliness and social isolation are increasing across the world's population in older adults. So, what can you do?
Get social. Activities such as a book club, card club, or religious services are good ways to build connections with other people and are an important part in keeping loneliness and social isolation at bay.
Giving back provides a sense of purpose and increases interactions with others. It's also a great way to use your talents. Consider organizations you feel passionate about.
When you exercise, endorphins are released from the brain, which help minimize pain and produce a general feeling of well-being. The Centers for Disease Control and Prevention currently recommend that older adults participate in 150 minutes of moderate-intensity aerobic activity and at least 2 days of muscle-strengthening activity per week. Not only will it make you feel good, but you'll be stronger and healthier for longer as a result.
Taking measures to prevent physical and financial harm, along with maintaining good health habits and staying engaged with others, can make for a safe and healthy holiday season. Happy holidays to everyone in the Judson family and a happy New Year!