If composer Burt Bacharach taught us anything back in 1964, it's this: A house is not a home. Assuming that's true, one has to ask: What does that make a 500-square-foot apartment?
While it's tempting for suburban types to dismiss such a compact space as nothing more than an overgrown closet, for residents living in one of Judson Park's assisted living neighborhoods – Hillside or Ambler Court – 500 square feet, or thereabouts, is indeed home, sweet home.
Is it really possible to cram all the comforts of a life well lived into such a cozy space? Fear not, downsizers. Judson's longtime maven of moving, Susan Kent, gives a resounding "yes."
"While Judson's assisted living apartments vary somewhat in size, it's entirely possible to make them feel comfortable and cozy," she says. And after more than 20 years of helping new Judson residents do that very thing, Susan knows all the tricks of the trade.
Fundamental to a successful downsizing, of course, is getting rid of one's "stuff." For some of us, that's easy; for others, not so much. "It's not a 'one-size-fits-all' proposition," says Susan. "Some people need lots of stuff around them to feel comfortable. Others are minimalists, and they find the process of downsizing to be liberating."
One way Susan helps ease any discomfort is by encouraging her clients to focus on the future, not the past. "There often is a sense of loss as we age," Susan admits. "And in moving, you are leaving yet another thing behind. So it's helpful to make where you are going, not what you are leaving, the important part of the equation. After all, you have to say "goodbye" before you can say "hello"!
It's also good to feel good about where your discarded stuff goes. As part of Susan's work with soon-to-be residents, she connects them with antiques dealers, auction houses and other types of estate liquidators. But she says the most satisfying option is often the simplest: donate to charity. "The feeling that cherished items are doing good for someone who needs them goes a long way toward easing the process."
To help make the winnowing even more rewarding, Susan starts her work by visiting soon-to-be residents in their homes, measuring their furniture and artwork, and designing a to-scale floorplan for fitting the important stuff into the new space.
What, exactly, is the "important stuff"?
For one, those cherished pieces that provide a sense of meaning.
"It's important to focus on key pieces of furniture and art that are reminders of great times and pleasant memories," Susan says. "Aim for fewer pieces that mean more – and that will fit in your apartment!"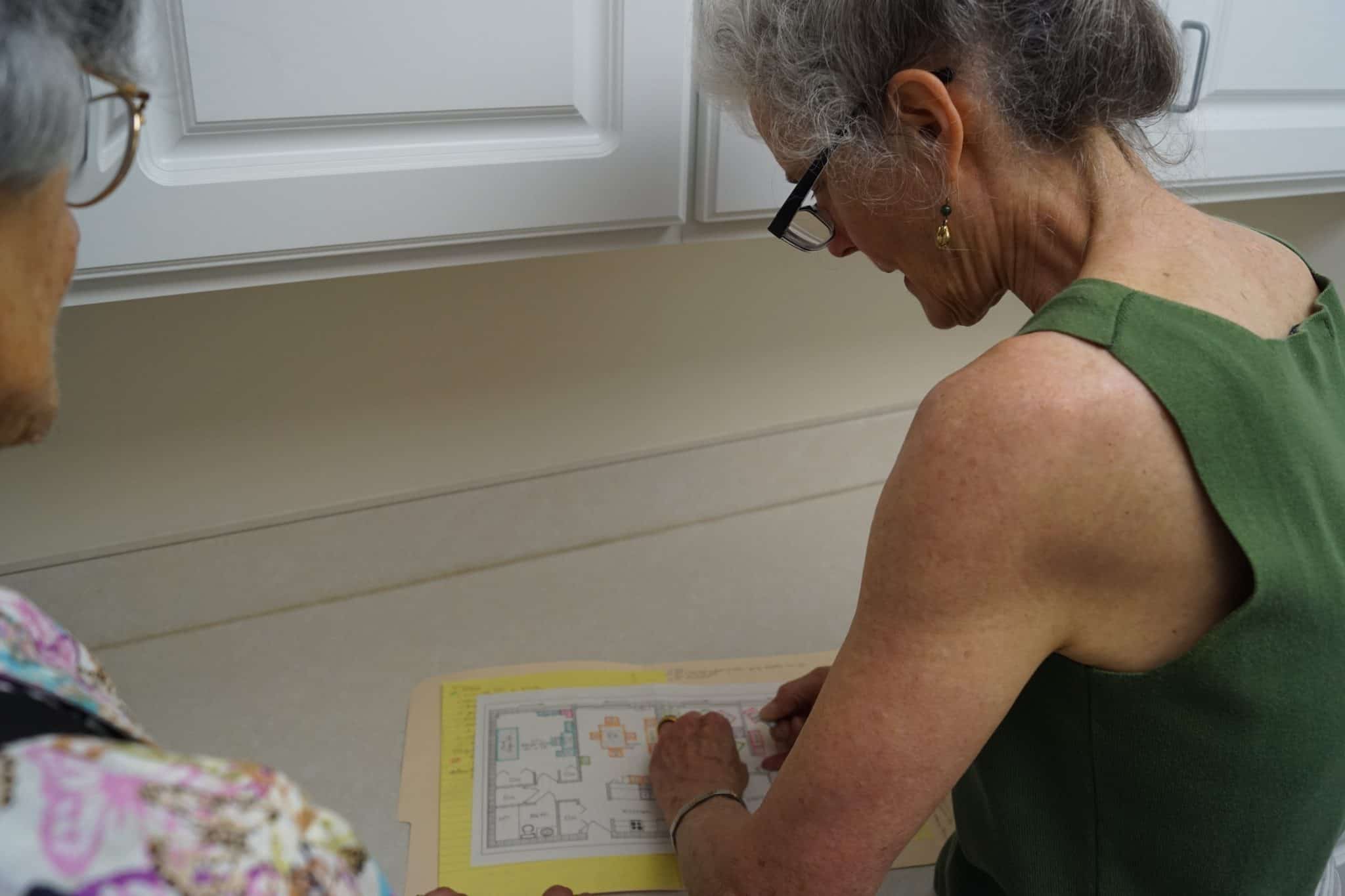 Beyond the pleasant memories they conjure, items with deep personal significance play another important role in a new home: They help tell others who you are.
"Your rooms should reflect your life's story," says Susan. "It's a wonderful way to be seen as an individual with a rich past and unique interests. Especially things that hang on the walls can really help staff and visitors know something about your life. It's a conversation starter, it encourages dialog, and provides a rich understanding of who you are."
Susan also suggests choosing multi-functional pieces that can serve more than one purpose. Small tables are key, she says. "They function not just as dining space, but can do double-duty as a desk, a place to pay bills, or even a gathering place with family and friends."
Susan also suggests maximizing space by going up the wall. Besides the standard photos, prints, and paintings, a television can be hung on the wall to free up floor space. And wall hooks can serve a variety of purposes: in the bedroom, as an extension of the closet; in the bathroom, to hold hairdryers, robes, or PJs; or by the front door for a cane, a grabber, or guests' coats.
In addition to fostering a sense of calm and serenity, good organization is another way to get the most out of your square footage. Built-in shelving or cabinets can increase storage and display space while corralling the clutter. For serious readers – or anyone who can't imagine a life without books –a bookcase can be a boon.
And consider casters. A set of rolling drawers can be moved into the closet, or a file cabinet can be tucked beneath a desk, says Susan. And don't forget back-of-the-door mirrors, storage systems, and organizers. "Now that we have a Container Store in Cleveland, the options are endless!"
While arranging your personal space for comfort and convenience is essential, Susan reminds new residents to look beyond their own four walls for engagement.
"All of us think we want to age in place," she says. "But the truth is that it can be easier, safer, and more enriching to be part of an assisted living community, and less isolating, too."
The first step is easy. "Get introduced to your new neighbors, sooner rather than later," she advises. "While you can still be as private or as social as you like, one of the big advantages of living at Hillside or Ambler Court is the chance to make new friends as quickly as possible.
"Getting out of the apartment is a great idea, too," she adds. "Go to the Expressive Arts Center, have meals in the dining room with your new friends, and make use of the health and fitness programs. All these things are here under one roof, accessible even in the winter, and if you can't make it there on your own, you can always get assistance from the staff."
And before you know it your small space will live as large as an entire community.