Upon opening the door to Jo Weber's apartment, you are greeted by Sophie-Grace and Madge – her two dogs. The threesome currently resides in temporary digs at Judson Manor while they anticipate moving to a renovated apartment on the Manor's 6th floor next year.
The completely renovated floor will include 10 spacious one- and two-bedroom apartments, with contemporary kitchens and baths, in-suite laundry and resident-controlled heating and cooling systems. Jo's two-bedroom apartment will be about 1400 square feet.
"Just the right size for me," says Jo. "And the views overlooking the Wade Lagoon in front of the Cleveland Museum of Art are spectacular. Plus there's lots of greenery, so it's a good mix." Jo plans to turn her second bedroom into both an office and a spare bedroom to welcome visiting nieces and nephews.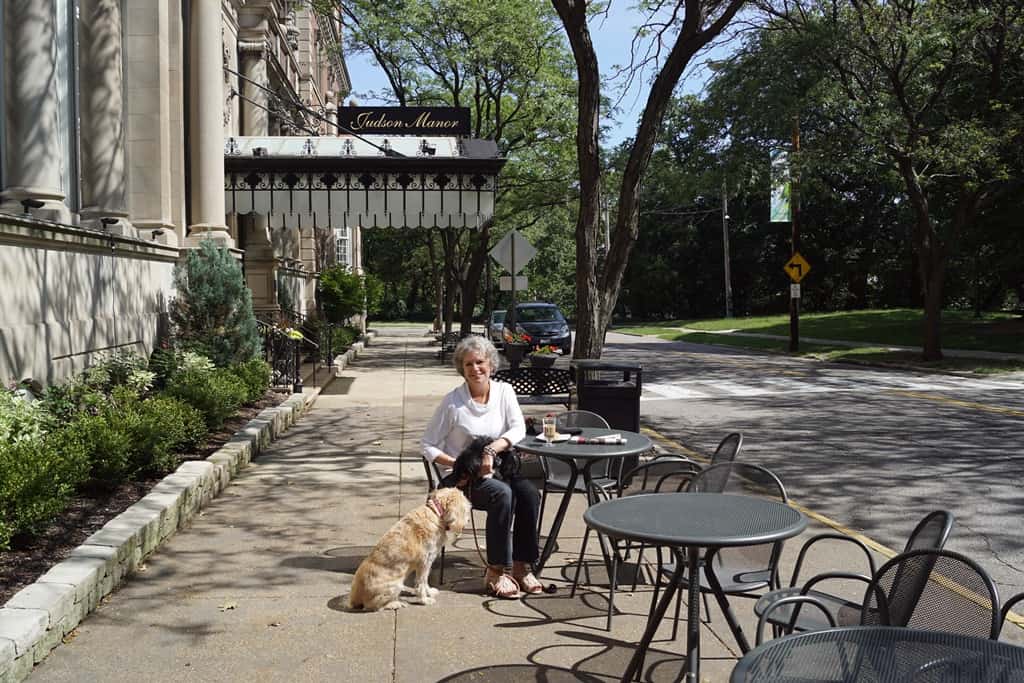 But the 6th floor renovation isn't the only reason Jo chose Judson Manor. "When I walked into the lobby, I fell in love with the building," she says.
The Manor first opened its doors in 1923 as Cleveland's first luxury hotel, welcoming guests like Walt Disney, Vincent Price, Olympic figure skater and film star Sonja Henie, and many others. Since taking the reins of the building in 1983, Judson continues to preserve the building's historic pedigree, while offering residents a community they can call home with modern conveniences and amenities. Jo appreciates the blend of the historic and modern vibes, "I haven't lived in new construction; it just doesn't appeal to me. But in this building, I like it a lot!" she says.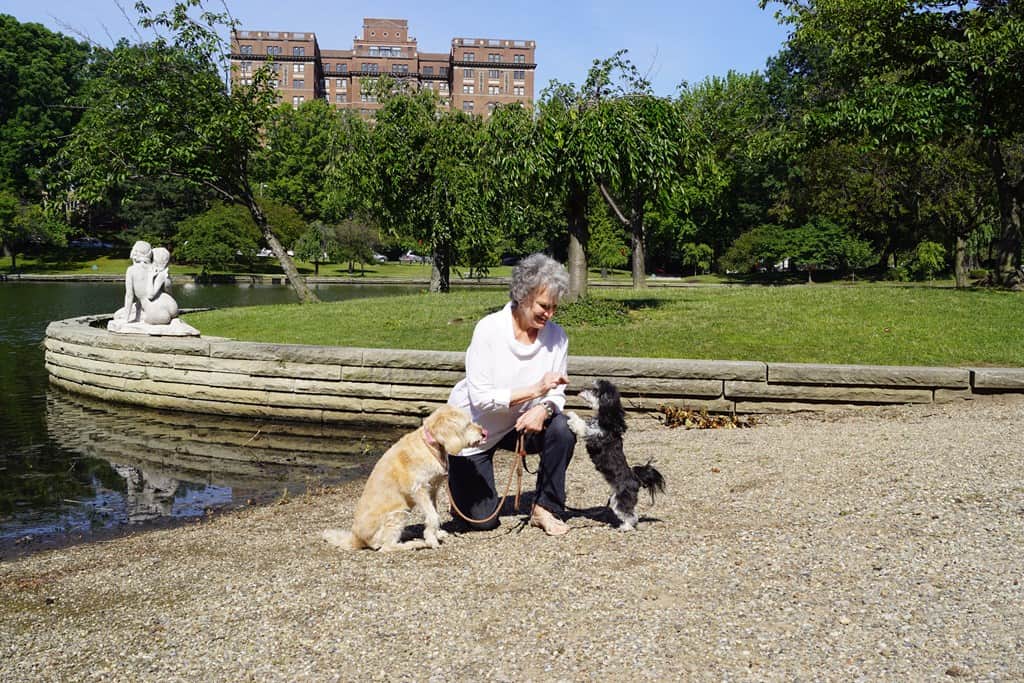 Jo's move to Judson is one of many she's made in her lifetime. Originally from Norwalk, Ohio, she left home at 18 and bounced around, living in 24 different places, including Chicago, Virginia Beach, and Florida. "I was always looking for better work," Jo says. "I finally settled in Cleveland about 30 years ago."
Jo chose Judson because her home in Cleveland Heights became a lot to maintain and she wanted a sense of community. "I saw no reason to wait. My house sold quickly and the transition was seamless. I feel right at home, and overall it's an easier way to live," she says. "Plus the dogs love it too!"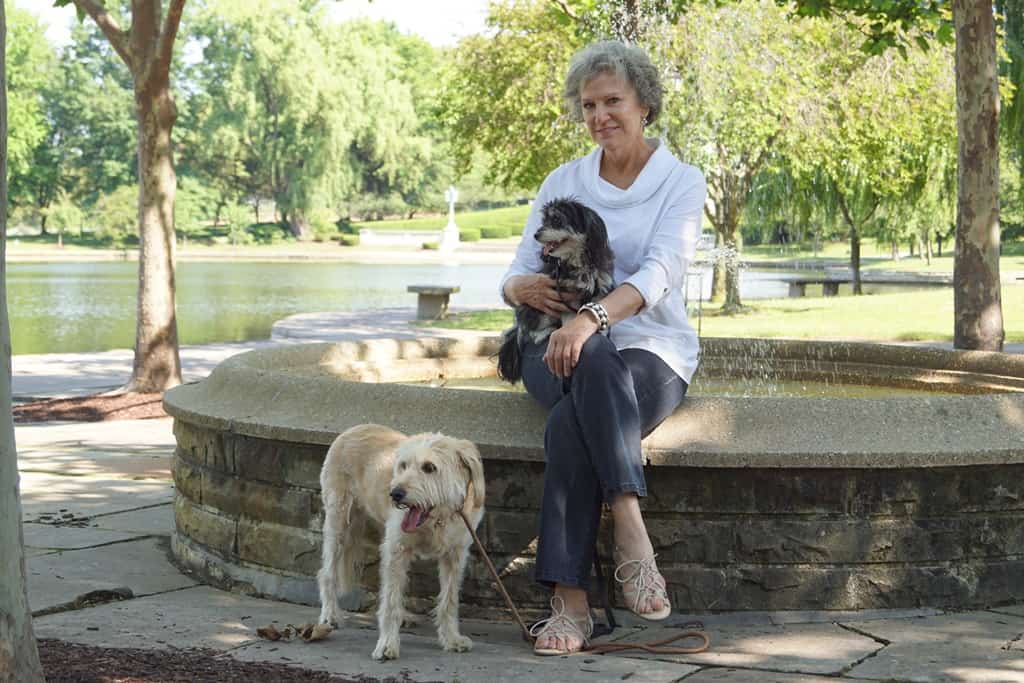 In fact, the Manor's pet-friendly atmosphere was a major selling point for Jo. She takes Sophie-Grace and Madge for numerous walks in the neighborhood. "Some mornings, I feel like I'm walking out of a Manhattan apartment building," she says. The nearby construction of Case Western Reserve University's Nord Greenway, will offer Jo and her four-legged companions even more opportunities to enjoy the outdoors.
Judson Manor's central location complements Jo's sense of adventure. She loves exploring all that's new and exciting in Cleveland, including the latest exhibits at the Cleveland Museum of Art and Wade Oval Wednesdays' live outdoor concerts. "The Manor is so convenient to everything. And for me, it's not just about the museums—there's so much happening downtown, the Flats, and on the near West Side." You can often find Jo checking out new restaurants in the Cleveland area, but she's not too picky. "I'll eat anything but apricots," she laughs. "I just get in my car and go."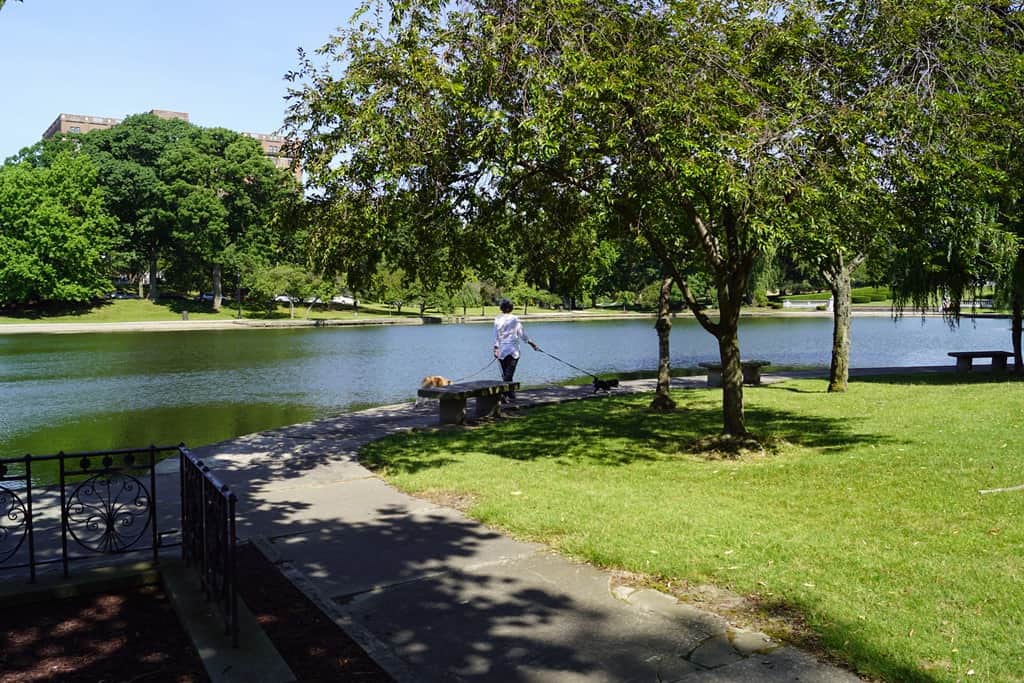 In addition to the convenient location, Jo loves that the Manor is a hub of activity. "The environment is unique because on one hand you've got the building's age and beauty, and on the other a wonderful sense of community," she says. "I can choose to be alone all that I want, or enjoy the company of the many new friends I've made here, or entertain guests. Having choices is a good thing."