If you think joie de vivre comes with an expiration date, just consider Nina Freedlander Gibans.
Poet, curator, educator, director, producer, facilitator, self-identified "cultural consultant," and author of seven books, Nina, 86, has long been a relevant and respected voice on the Cleveland cultural scene.
The Judson Park resident continues to transition gracefully from project to project. Past years have found her partnering with WVIZ to produce and direct videos; spearheading a community-wide effort to link poetry and art, among many other projects. These undertakings share a common theme: the importance of connecting with the world around us.
Her passion for making connections gets full expression in her newly released book, "Celebrating the Soul of Cleveland." Part autobiography, part history, and part communal reflection on what endears Cleveland to Clevelanders, the book uses images, stories, poems, and interviews to weave a tale both personal and relatable.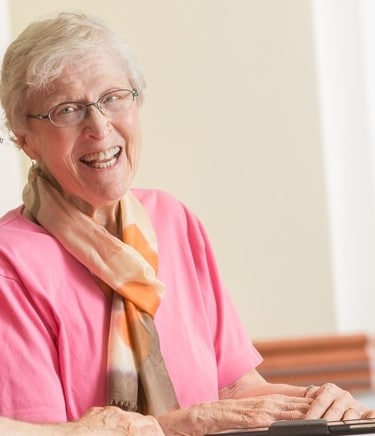 "It is really about celebrating a life in Cleveland," Nina says.
The fact that cerebral palsy has been Nina's lifelong companion has sharpened her resolve to celebrate life. "I was a 2-pound baby and doctors weren't certain I was going to live," she says. "When I came home from the hospital, my father (a physician) decided this would not define me. As a result, I have always done what I was passionate about. I just keep connecting the dots!"
These days Nina is finding the challenges of aging with cerebral palsy require more attention, especially around mobility. Since 2016, she has lived in a bright, airy assisted living suite in Ambler Court. "The challenges have always been there, but I didn't think about it a lot," she says. "Now I think about it more, address it, and no one can do that for me. As you grow older, you bank on what you know, what you want to know, what you could know, and open the door to new experiences, every single day."
Nina's next book, "The Garden of Old Age," is a collection of poetry she wrote this August after the loss of her husband of 63 years, the architect Jim Gibans. "I wrote a poem a day, for 30 days," she says.
If there is meaning to be found in Nina's indefatigable energy and myriad accomplishments, she says it could be this: "Life can be full if you allow it to be, and if you are thoughtful about what you are doing and allow it to energize you in a way that is significant."
Plus, she admits, a little moxie never hurts.
"It comes down to one word,'' Nina chuckles. "Feisty. That's what I am."
---
In Partnership with Case Western Reserve University, Nina will be presenting on "Perceptions of Cleveland" on Monday, December 10 at 12 p.m. at Judson Park.