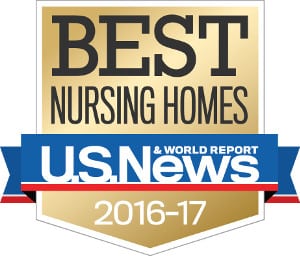 We're proud to announce another accolade: The Judson Health Center is a U.S. News Best Nursing Home for 2016-2017.
U.S. News evaluated more than 15,000 homes nationwide, across each state and in 100 major metropolitan areas. The Judson Health Center is one of just over 2,000 nursing homes to earn the designation of a U.S. News Best Nursing Home.
The Judson Health Center is a 83-bed, Medicare/Medicaid-certified facility located at Judson Park, a continuing care retirement community in University Circle, Cleveland's medical hub. The Health Center offers short-term rehabilitation as well as long-term skilled nursing care.
---
---
The U.S. News Nursing Home Finder offers comprehensive information about care, safety, health inspections, staffing and more for nearly every nursing home in the country. With this tool, individuals can easily conduct a customized search for a highly rated nursing home by location, distance, Medicare and Medicaid coverage and size.
Since its inception in 2009, the U.S. News nursing home ratings have relied on data from Nursing Home Compare, a program run by the Centers for Medicare & Medicaid Services (CMS), the federal agency that sets and enforces standards for nursing homes. In 2016, U.S. News updated its methodology to give users a better sense of how nursing homes perform over time and to determine whether a home provides appropriate rehabilitation services.
The 2,000-plus nursing homes that earned the designation of a U.S. News & World Report Best Nursing Home for 2016-17 represent about 13 percent of all homes and reflect a 41 percent decrease from last year. That is due in large part to the updated methodology. For the second year in a row, California has the highest number of homes on the list, followed by Ohio and Florida. Washington, D.C., Colorado and Delaware have the highest proportion of Best Nursing Homes as compared to the total number of homes evaluated.
About Best Nursing Homes Updated Methodology
U.S. News has updated the methodology used to evaluate nursing homes to ensure that the designation of Best Nursing Home is given only to those homes that demonstrate appropriate use of key services and consistent performance in national quality measures. To qualify as a Best Nursing Home this year, facilities had to earn an average of 4.5 stars or better during the 12 months of federal reports ending in October 2016 and had to consistently meet certain performance standards set by U.S. News during the period, such as earning at least 4 stars in the CMS overall rating for all 12 months. For more detailed information about the updated methodology, please click here.