Judson Manor, Judson Park and South Franklin Circle keep it fresh with excited and talented chefs on all three of our campuses. The creativity that they bring into our kitchens inspires our staff and our residents to view dining experiences as just that, an experience! With constantly changing ideas, menus and opportunities, they do everything they can to make sure Judson is a great place to dine.
Meet Nathan Rehmer, Gaetano Ricci and Chris Koshar who are, respectively, executive chefs at Judson Manor, Judson Park and South Franklin Circle.
Chris Koshar – Our Fresh Food Sculptor
The walls of Chris Koshar's office at South Franklin Circle are covered with photographs of his "food creations," like a life-size turkey sculpture made of watermelons, gourds, carrots, celery and plantains. Others include sculptures to celebrate Halloween, Christmas, and Mother's Day.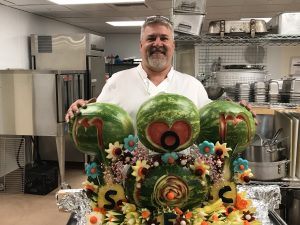 "I look at a plate as a blank canvas and my ingredients as watercolors" says Koshar, who joined the South Franklin Circle dining team two years ago after working for nearly 20 years at East Side Grille and its successor, Cucina Rustica, in Bainbridge. "Every plate becomes a work of art."
He strives to have the South Franklin Circle residents try new and unconventional ingredients in the dishes he creates daily. "I can pretty much put anything out because they're going to try it."
Koshar changes the menu weekly in Radius, South Franklin Circle's restaurant. "To me, that's fun because I get to experiment and try new things every day," he says. He also does in-house catering, and customizes the meals he serves. "If somebody wants something that is not on the menu, I am happy to make it for them," he says.
Chef G Gives a Taste of Home
Gaetano Ricci, a native of Italy, is affectionately known as "Chef G." He has been at Judson for almost three years, having previously held managerial positions at Heinen's and the Cleveland Clinic. He brings a taste of Sora, the small town near Rome where he grew up; to the friendly cuisine he serves Judson Park residents.
"To be creative, I work with all kinds of food," says Ricci. "We focus on seasonal menus and with spring on its way, we're working with seasonal fruits and vegetables to create lighter fare"
"I like to be a mentor, to teach, and help build teamwork," says Ricci, noting "everything is from scratch, and we cook to order, restaurant-style."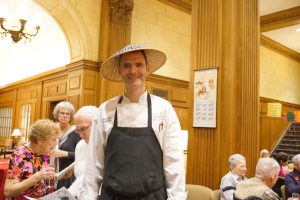 Chef Nathan Rehmer – A Twist on Traditional
"I love being able to get to know the residents and their personalities, particularly their likes and dislikes in food. The most fulfilling part is working hand in hand with residents to create the menus.
Rehmer loves seafood, Mediterranean-style cooking and spicy Asian food. He came up in the restaurant business—in Toledo, "As a restaurant background chef, I'm accustomed to writing menus for the customer, but working for Judson, the menus are based on what the residents want."
The emphasis is on healthy, comfort-style foods, but with a contemporary twist "roasted turkey, pork tenderloin, various cuts of beef, and sides such as garlic smashed baked potatoes, sautéed green beans, roasted asparagus, and truffle macaroni and cheese," says Rehmer.
To sweeten the offerings at the Manor, Chef Rehmer presents pies, homemade ice cream, and cakes.
Our Chefs bring unique talents, vision and ideas to each of our communities. With so many differing perspectives, every meal offers a twist on the traditional, a feast for the eyes, and a nod to regional cuisines to keep things fresh and fun!