In the past 14 years, Judson Manor resident George Havens has brought seven books to life, tackling topics that range from strategies for a successful pitch to inspirational heroes. That's a remarkable achievement by any measure. But for this long-time advertising executive, business consultant, and active senior, it has simply been a question of sharing what he knows.
"Working in an ad agency for 40 years, I always did a lot of writing," says the retired chairman of The Jayme Organization, a full-service advertising, marketing and public relations firm in Cleveland. "I like to write, and I think I'm pretty good at it."
But that doesn't mean he picks his topics at random. "There are a host of subjects I'm not qualified to write about," George says. "The ideas I am qualified to write about have either come out of my expertise or my experience. My hope is to share with a reader what is meaningful to me and to have them find it inspiring and transformative too."
Together with his wife Virginia ("Ginnie"), George moved to Judson Manor in 2009, drawn by its cultural advantages. "We are active seniors, so we walk everywhere: to Severance Hall for Cleveland Orchestra concerts, to Case Western Reserve University for classes, and the Cleveland Museum of Art for exhibitions. We love it here, and we wouldn't want to live anywhere else."
Outdoor enthusiasts, the former Montana residents are also active on a number of Judson Manor boards and committees. In addition, George – a longtime jazz aficionado – has developed and teaches a series of classes on the musical art form through CWRU's lifelong learning program.
With so much to do, why focus on a solitary pursuit like writing? "Because I think I have something important to say," George answers. "Besides, we can't be traveling or running up and down mountains all the time. We need to catch our breath!"
George's first book, a 200-pager published in 2003, drew from his World War II experiences, revealing the "overlooked saga" of Belgium's Port of Antwerp. That was followed in 2004 by a remembrance of growing up in East Cleveland during the 1930s and '40s.
A family history unfolded in 2006, followed by "The Prize: An Adventurous Life" in 2012, which proclaimed the multiple benefits of seeking out challenges and pushing into the unknown.
George's ad-agency expertise came into play with 2003's "A Professional Guide to Winning Presentations: Sure-fire Strategies and Tactics for a Successful Pitch," and 2008's "The New Competitive Challenge: Satisfying and Keeping Today's Tougher Customers."
While George is quick to point out that he only writes "intermittently, when I'm energized or excited," he values the discipline the craft enforces. "I research everything," he says, noting that he has spent a lot of time in the archives of nearby Case Western Reserve University. "I've had to learn a lot about a lot of things. It's very rewarding – and also I don't want anyone to accuse me of not knowing what I am talking about!"
Sometimes his research leads him even further afield. For his book on World War II, for instance, he reached out to a research statistician in Belgium and received data that had never before been published. "Later, when Ginnie and I traveled to the Port of Antwerp, I was able to meet the researcher in person and give him a copy of my book!"
Those types of exchanges are at the heart of why he writes, George says. "This is a vanity project to some extent," he admits. "I never expect to get rich from it beyond possibly covering my costs. But I do believe I can make a contribution to my readers' lives."
George's newest work, "Heroic Leaders: Visionary. Courageous. Inspiring," was published early this year. Rather than "big names" like Eisenhower or Churchill, George chose to chronicle the "unsung heroes" who have inspired him throughout his own life. A roster of accomplished leaders who overcame great challenges and experienced great successes, the profiles include John Frank Stevens, the chief engineer on the Panama Canal; Heinrich Harrer, part of the climbing team that made the first ascent of the North Face of the Eiger in Switzerland; T. Keith Glennan, the fourth president of Case Institute of Technology and the first administrator of NASA; and the consummate ad man, David Ogilvy, an acknowledged "wizard" in the industry and one of its dominant thinkers. ("He was a marvelous individual," says George admiringly. "I learned everything from him that I could.")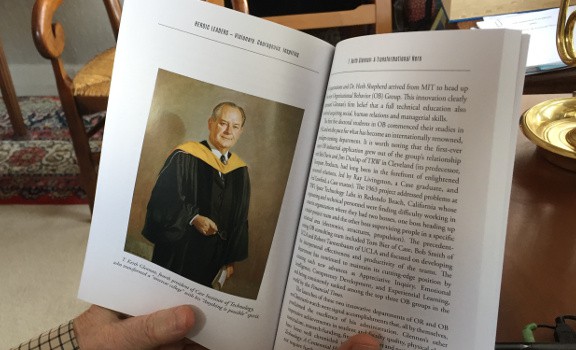 Ultimately, George says, "Heroes" is an examination of the human spirit. "The thrust of the book is that life can be richer, more upbeat, with the benefit of heroes. They expand our lives by giving us examples to emulate and idealize. They enhance the quality of our lives."
Of course, George modestly denies that he could be anyone's hero, despite the inspirational quality of his own pursuits. "You know, it used to be you retired at 65, and a couple years later you're gone. Now, people retire earlier, they're in better health … they may have another 30 years ahead of them. You can't just play golf or sail your yacht for 30 years; it's too damn boring! You have to do something to stretch your mind and to feel needed. You have to find a way to contribute."For me, writing is one of the ways I contribute. That's the transaction. That's what's meaningful to me."
Read more about the retirement lifestyle at Judson Manor >>