We have always known that Judson Associates are extraordinary – kind, compassionate, and committed to our mission of Bringing Community to Life. When a global health care crisis hit, it was no surprise that our dedicated team rose to the challenge.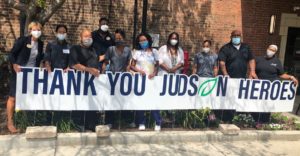 Their efforts, on the front lines and behind the scenes, to keep residents safe, healthy, and connected during the COVID-19 outbreak have been nothing short of heroic. Not only have they rallied around the clock to implement precautionary measures to ensure the well-being of residents and each other, but they have also shown up, despite the risks and uncertainty, ready to face new challenges with compassion and smile.

Their dedication has not gone unnoticed. In June, at the urging of residents and families eager to express their deep appreciation to Judson Associates, a Grateful Resident and Family Fund was created with Judson Foundation. By the end of July, more than $112,000 in gifts and nearly 100 inspiring messages of gratitude had been collected. The fund was distributed in August, and all Judson Associates received a monetary gift along with a personal expression of gratitude as a special thank you for their tireless work during the pandemic.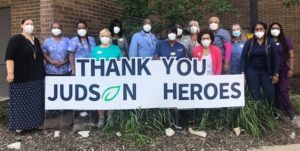 This week, from September 14th to September 18th, Judson is celebrating the more than 425 Associates who bring community to life every day. The weeklong appreciation event honors employees with fun activities, a Judson swag bag, raffles and prizes, and of course, food trucks. If you would like to share a message of support or say thank you to our Judson Heroes, visit: https://www.judsonsmartliving.org/thank-you-judson-heroes/