Cosette Ghanem's chosen career, art therapy, didn't exist in her native country of Lebanon, so she immigrated to the U.S. in 2009 to follow her dream and study at Ursuline College. She was a nun at the time – an Antonine Lebanese sister – and earned both her bachelor's degree and, last May, double master's degrees in clinical counseling and art therapy, at Ursuline. Now she's starting her second year as an artist-in-residence at Judson Manor – but before she arrived at this "safe place," she endured stormy times.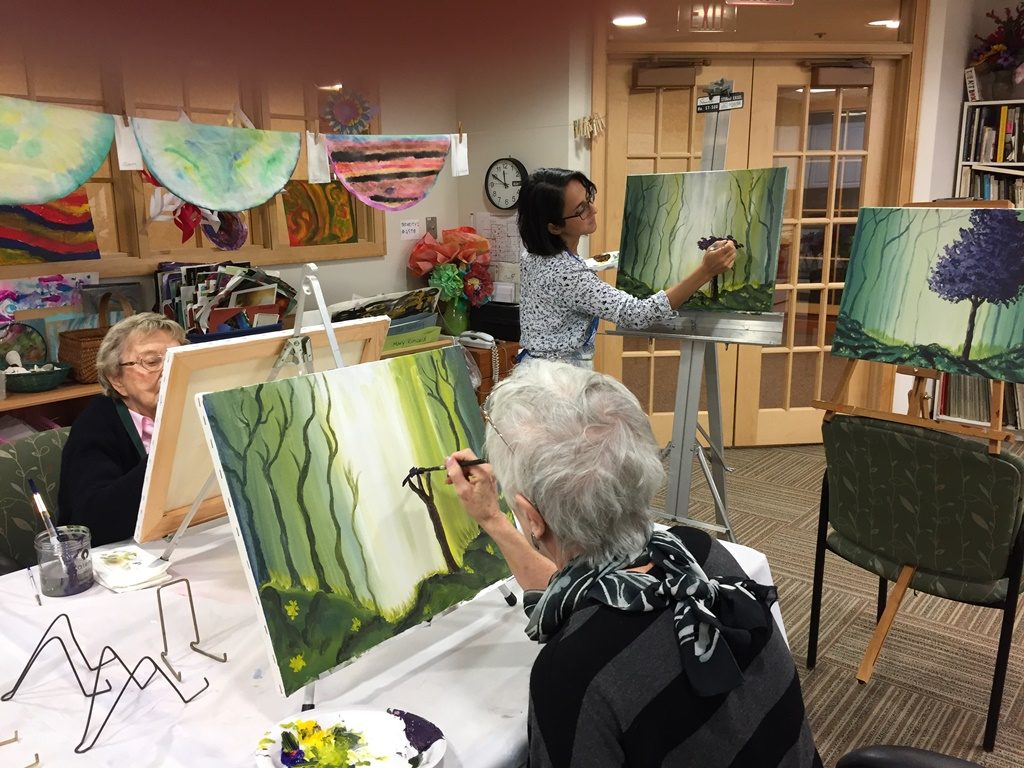 She had spent 12 years as a nun but decided the religious life wasn't her path after all. So in 2012 she returned to Lebanon to face her mother superior and "get it all sorted out, but that wasn't easy." Cosette wasn't well; she suffered from Lupus and her personal heartache over leaving the convent caused a major flare-up. "I thought I was literally dying," she says, "but I couldn't be a nun any longer."
Nor was it easy for Cosette to come to America alone as a layperson, but she's "always been independent," she says. "Even if something is hard, I know I will be okay. I was raised this way by my mom.".Cosette had only been learning English for three months before starting school at Ursuline. She learned the language on her own and she excelled in her studies, receiving the highest academic achievement award when she graduated.
The whole painful episode made Cosette question her identity, but it also informed her art, which provided the "safety" she needed for healing and growth. Cosette had not created art before she came to the U.S., and it gave her a vehicle for self-expression. "Much of my work represents my own personal transformation," she says. "Everyone has a yearning to become their true self, and art opened that up for me."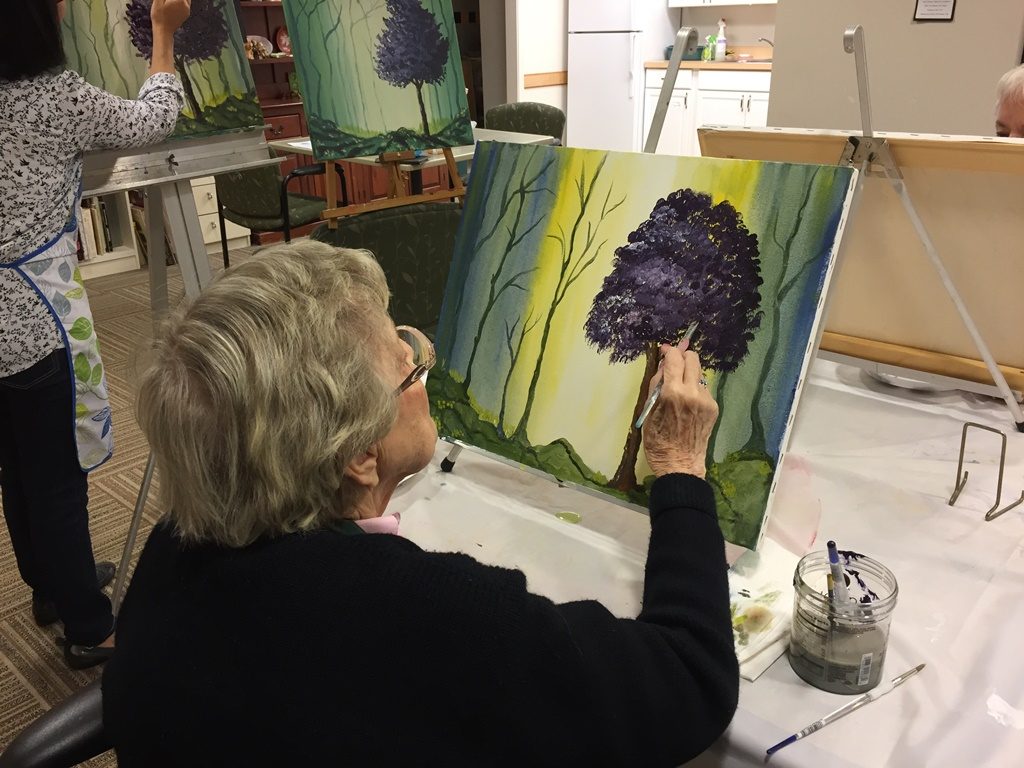 During that time, she also made a great friend and "her family became my family" she says. Those bonds, along with her newfound passion for art, strengthened her along the way after she left the convent .
Later that same year, about 30 pieces of her work were put on display. Within a month, 27 had sold, and her work appeared a few times on the cover of Inscape, Ursuline's fine arts magazine. Cosette knew she had found her true voice – through her art.
In the spring of 2016, as she applied for an internship at University Hospitals, life was smoother; her family finally saw "her reality," as she puts it, and her biggest fear – regret over her decisions to leave the religious life and her homeland – never materialized. Not too long after, she recovered from another serious lupus flare-up. Cosette once again reached to art to help her heal.
As she fulfilled her internship requirement at the hospital, someone mentioned openings for artists-in-residence at Judson, and Cosette was intrigued. She had worked with special needs children but decided she wanted to work mostly with adults. The Judson position would allow her to fulfill her calling and share her positive, forward-looking energy with Judson residents through her art classes. "It was a perfect fit!" she says. Cosette was thrilled when Judson Manor brought her on as an artist-in-residence. And she thought the building was so elegant. "All I needed was a small room to sleep in, and here they were giving me an entire apartment! And the people were so sweet; they all welcomed me right away."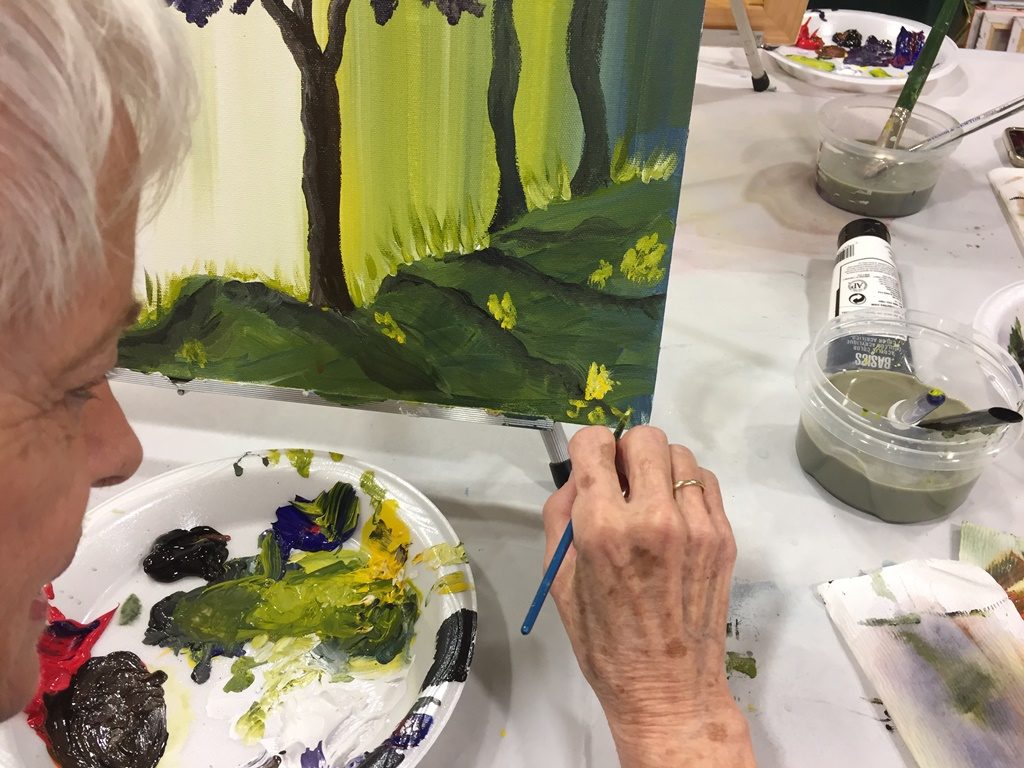 Fast-forward to today: Cosette is returning for her second year at Judson. She works full-time at Connections, a community mental health agency in Beachwood, providing counseling and art therapy, and on weekends teaches art to Judson residents. Their projects are as diverse as mask making, weaving and exploring art with any kind of media. "Working in different media makes it possible to adapt lessons to each individual's abilities," she says. Some of her sessions include dying silk scarves, painting with texture paste, print making and she makes herself available for private lessons. "I think I know everyone here," she says. "I go to lectures, social gatherings, plays, concerts – I even do a little cat-sitting."
Cosette's work, along with those of other artists and residents is currently featured in an exhibit at Judson Park. "We're fortunate that Judson values the art program and provides all of our supplies" she says.
Most importantly, she has found a "new family" at Judson. "Every person is like my own grandma or grandpa," she says, laughing. "I feel such an abundance of love from them – they appreciate what I do and they care for me.
"I'm so lucky to be at Judson, and so glad to be here another year."
Check Out Cosette's Work in "Creativity Across Generations: Collaboration and Community," on view now in the Streeter Gallery at Judson Park through October 10.