Google the term "world travelers," and a photo of Gayle and Bill Bauer could very well pop up.
At a robust 95, the South Franklin Circle couple can lay legitimate claim to more adventures than most of us could shake a trekking pole at, many of them taken through Earthwatch, a global organization that pairs researchers with volunteers to tackle some of the world's most pressing environmental problems. From helping unearth a T-Rex in Montana to researching the food and wine of Pompeii, the Bauers have been on nearly two dozen Earthwatch expeditions across the span of 22 years.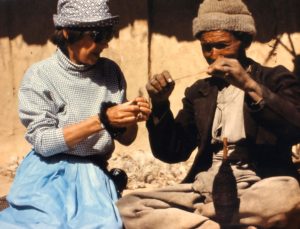 Beyond those travels, the peripatetic duo also have climbed mountains in Bhutan, visited the polar bears of Hudson Bay, and hiked the Peruvian Inca Trail to Machu Picchu – not just once, but three times!
So where are they headed this summer, you ask? Nowhere, it turns out. Like millions of their fellow Americans, the Bauers' travel plans have been derailed by that other world traveler: Covid-19.
"We still can physically do all the things we like to do," Gayle is quick to establish. "But in light of the virus, we are staying put. Cruises … air travel … tourist sites with big crowds: Based on experts' advice, it seems very unwise to go anywhere now – and for the foreseeable future."
Happily, the Bauers and other inveterate adventurers like them have discovered other ways to scratch that travel itch, including a wealth of online videos, virtual tours, and even webcams relaying real-time information from exotic locales.
While virtual reality can be a poor substitute for real reality, a traveler packing a playful spirit and realistic expectations can spend many a happy hour parked in front of the laptop while traveling the world. In a single afternoon, for instance, you can watch the Northern Lights over Greenland, skim the waterways of the Bolivian jungle, and ogle the cherry blossoms around the Tidal Basin, in Washington D.C. – all part of the online feature, "52 Places, Virtually," available with a New York Times' subscription.
The nonprofit organization CyArk is another online source of travel experience. Founded in 2003, CyArk digitally records, archives, and shares the world's most significant cultural heritage sites, posting short but tantalizing 3-D tours of places ranging from South Dakota's Mount Rushmore to New Zealand's Waitangi, along with innumerable missions, monasteries, and Meso-American ruins. CyArk has also created several highly sophisticated virtual travel apps, including one titled "My Virtual Armenia," created in partnership with Smithsonian Magazine, which can be downloaded onto your phone for a mobile VR experience. And speaking of cultural heritage, you can virtually visit 30 UNESCO World Heritage Sites, including the Pyramid of Khufu and the Towers of Angkor Wat, with help from Google Earth.
While the coronavirus has played havoc with the travel industry, savvy online businesses like Kayak and Thrillist have found ways to remain relevant. Thrillist's "Virtual Travel Experiences That Let You Explore the World From Your Living Room" provides dozens of links to international adventures, including 3-D tours of Egyptian tombs and hikes along the Great Wall of China. Kayak, meanwhile, offers virtual guides to a number of top-rated cities. The virtual tour of New Orleans, for instance, delivers an entire day's worth of experiences for armchair travelers, beginning with recipes for beignets, continuing with a 360-degree swamp-boat ride, and winding up with cocktail-hour guidance for crafting your own Hurricane. In the process, you'll also have a chance to listen to some jazz on Spotify, watch a YouTube video on NOLA nightlife, and maybe even order dinner, via OpenTable, from a local Cajun restaurant.
Admittedly, all these online resources take a little getting used to. But then, so did TSA screenings at airports.
There is, of course, another way to at least partially soothe the travel bug: by reflecting upon all the wonderful things we've already done and seen. "Almost anything we look at in our apartment reminds us of someplace we've been," Gayle says. "This is proving to be a good time to simply enjoy our memories, and reflect upon our very rich lives."
And as in baseball, there's always next year. Once a vaccine is available and travel restrictions are lifted, the world is once again our oyster. Where will the Bauers head when that time comes?
"Well," says Gayle, "we've never been to Bali. And it would be wonderful to travel to see our children, who are in Chicago, New York, and L.A. But I think we would head to Colorado. We just love the mountains there; they are endlessly beautiful.
"Yes," she says with certainty, "I think that we will go there and hike."