If there was one feature that drew Marcia Rogers to her home in South Franklin Circle, it was the sunny, airy bedroom with plenty of windows and natural light.
"That's why I chose this place," she says. "It's very cheery." While the centerpiece of her bedroom might be the canopy bed, a visitor's eye is drawn to the set of full-size doors hanging on the wall – two of her favorite pieces because they represent a happy time in Marcia's own history.
"Those doors are antiques," she says. "They came from a house we owned in Florida." Marcia commissioned an artist to paint the panels with delicate blossoms. The theme ties the décor to the pretty floral bedding, so that the entire room resembles a spring garden.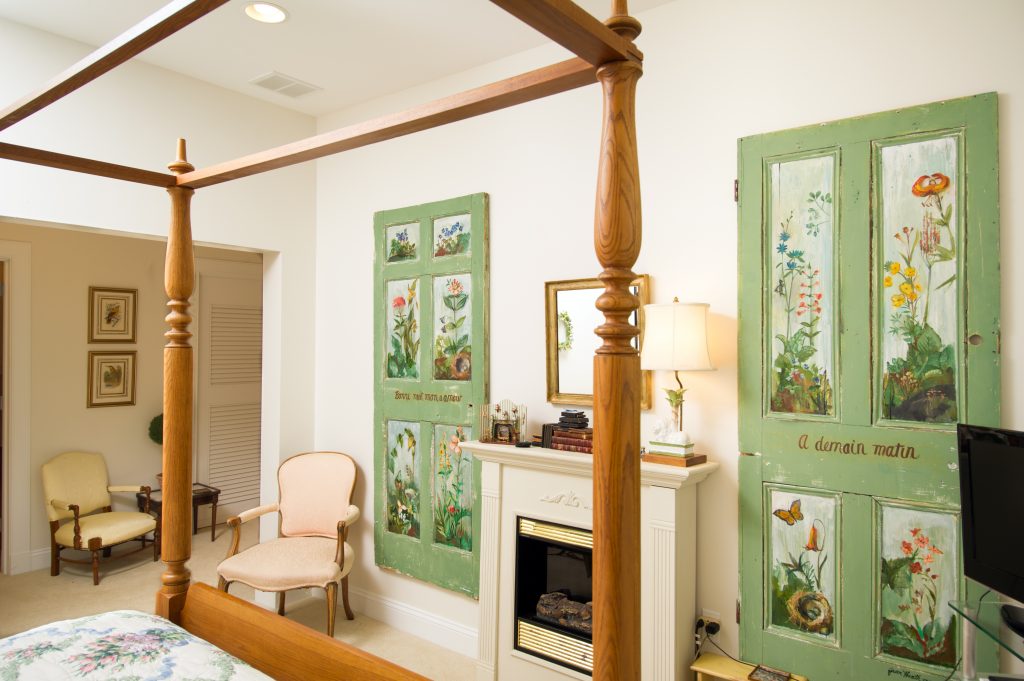 Not that Marcia has much time to spend lounging around in her bedroom. She's always been a busy person, even before she had kids and ran her own shop, "Marcia's Toy Town," at Cedar and Fairmount Roads in Cleveland Heights. She specialized in high-end toys such as Steiff teddy bears and Madame Alexander dolls. She sold the store to raise her three children, now grown: Chad, who lives in Austin, Texas; Marci, living in Laramie, Wyoming; and David, who lives in Chagrin Falls.
When her husband, Edward, passed away, Marcia stopped driving. "I have macular degeneration and I knew I had to get myself somewhere," she says. Her one regret is that she made an interim move before settling at South Franklin Circle. "It would have been nice to be ensconced here," she says, "and know everyone. I had no idea that people at Judson would be so friendly and accommodating! Plus, the staff is so helpful and professional."
Nor did she realize her life would continue to be so busy. Her first delight, she says, was discovering that South Franklin Circle would go the extra mile for her with their transportation services, customizing them to meet her needs. "I can go to any events throughout Northeast Ohio!" she says. "I go to the symphony a lot – I love that – I could go on an excursion every day if I wanted to! But there's also plenty I can do right here, like water aerobics and working out with a trainer two times a week. In the evenings there are always interesting lectures and programs."
Marcia also travels with her sister-in-law, also a widow, who lives in North Carolina. They've taken cruises to the Caribbean and Europe together, but her favorite vacations are river cruises because, "you get to see all the little towns through the countryside, not just the major cities.
She continues to fine-tune her apartment, too – and Marcia is not afraid of color in her décor. She painted her second bedroom red and converted it into a den, complete with TV and computer. Hanging over a side table is a still-life painting of brilliant red lilies, a gift to Marcia's parents; the artist was a Japanese opera singer.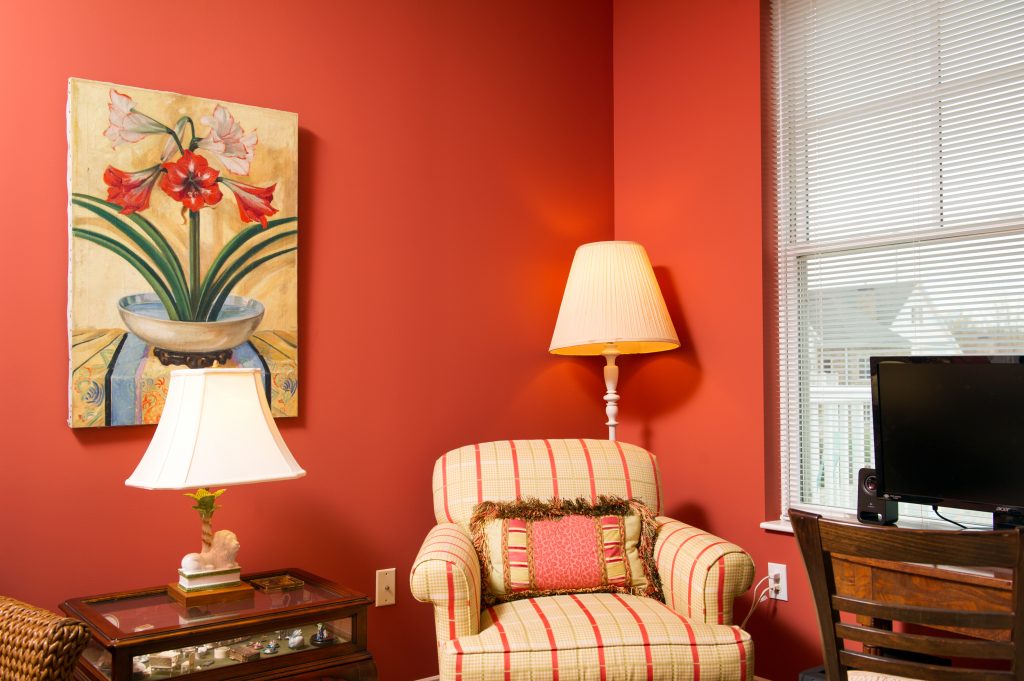 Her dining room, in contrast, is painted a soft buttery yellow. The table is a vintage gate-leg that rests against the wall; above the table hangs an antique screen, a family heirloom decorated with blue Chinese export tiles. It opens onto a balcony so spacious, she says, that she "can grow anything out there."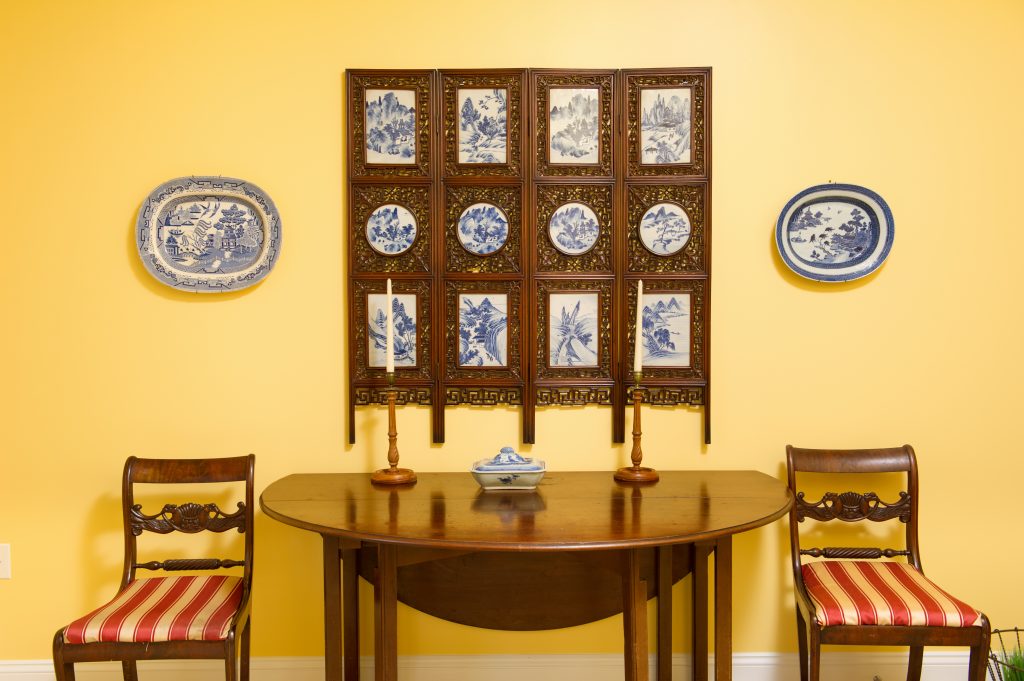 Marcia's living room is the most traditional space, painted in a soft cream color and furnished in an English and French provincial style. An ornate gilded mirror hangs above a sitting area – another family treasure.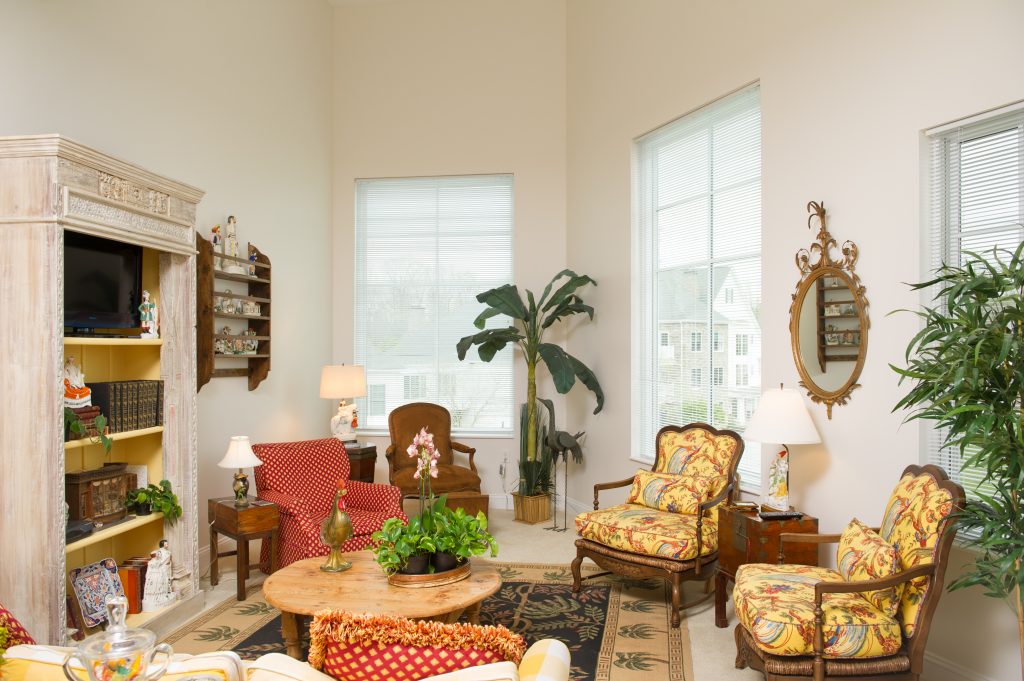 The freedom to bring her personal aesthetic to her South Franklin Circle home is one of its great attractions, Marcia says. "They let you do anything to the inside – as you can see," she says. "They encourage you to make it your individual place, using any colors, any kind of furniture that appeals to you. They're very, very nice that way."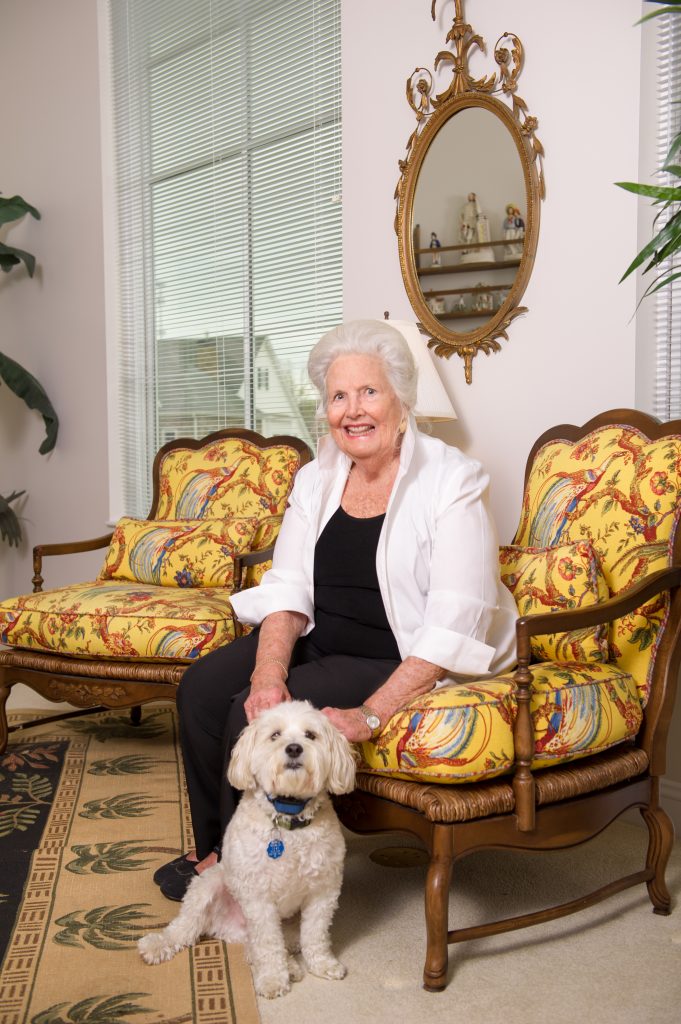 Marcia certainly enjoys her space – in between excursions to the theatre, orchestra performances, exercising and eating with friends at Radius, South Franklin Circle's fine-dining restaurant. "The food there is superb," Marcia says, "but so is everything here. People should move here while they're healthy and can enjoy it all, because there's a lot to enjoy."