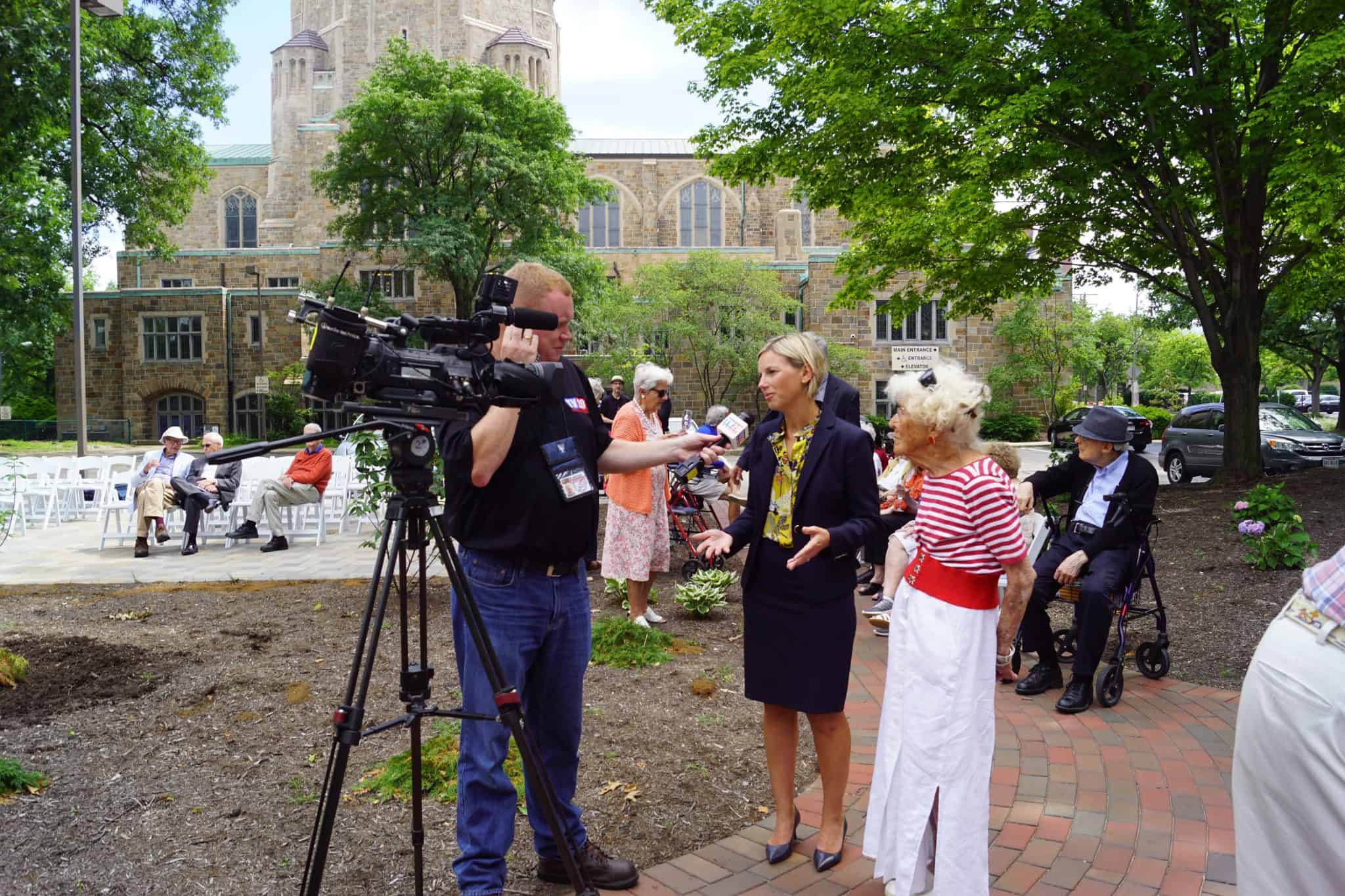 Judson in the News
Judson has been featured recently in the following publications:
August 20, 2020
Be creative when exploring senior living options
July 10, 2020
Interactions with pets can benefit seniors
June 12, 2020
Working with the vulnerable a two-way street
June 10, 2020
How art therapists are adapting during the pandemic
May 22, 2020
Art Therapists Adapt As Anxiety Increases During Pandemic
May 8, 2020
Retirement Communities Are Stepping Up During COVID-19
Spring 2020
March 4, 2020
Judson Services, Inc. Announces Minimum Wage Increase
February 28, 2020
State of the Arts: At 87, Cleveland Poet Writes About the Beauty of Aging
January 13, 2020
Gibans' book release party Jan. 17 at Judson Park
January 6, 2020
Champions of Care: Three Stories of Overcoming Medical Issues
January 4, 2020
A life full of art and a Judson Manor apartment to match: Cool Spaces
November 8, 2019
Cleveland Lets You Live Your Best Retired Life
September 13, 2019
Theatre in the Circle launches fall season with songs of Kander and Ebb in 'The World Goes 'Round'
September 4, 2019
CCRC Houses 'tremendously' Successful Theater Troupe
Mark Corcoran & Natalie Green – Theatre in the Circle
July 12, 2019
Art, Senior Living Go Hand in Hand
May 17, 2019
How Dogs Enrich Seniors' Lives
April 11, 2019
Pets Bring Out the Best in Aging Adults
Spring 2019
Therapeutic Effects: Artists-In-Residence Talk of Art and Healing
Spring 2019
Art of Architecture? Jack Bialosky Draws the Line
January 1, 2019
Champions Of Care: Three Stories Of Triumph
December 3, 2018
Theatre In The Circle Shares 'The Gift Of The Magi'
November 26, 2018
Retirement Communities Elevate The Plate
November 1, 2018
Ask The Experts: Role Of Arts In Retirement Living
July 11, 2018
Fall Risks Prevalent Year Round
June 15, 2018
BW Health Care MBA Grad Elevated To President and CEO Role
June 6, 2018
The U.S. Isn't Just Getting Older. It's Getting More Segregated by Age.
June 5, 2018
Senior Living News – Words of Wisdom
May 25, 2018
Older Adults Live Strong Through Wholistic Approach
May 23, 2018
Business Operators Say There is No Place Like Chagrin Valley
May 16, 2018
Judson Manor Resident Dr. Jane W. Kessler Recipient of 2018 Frank and Dorothy Humel Hovorka Prize
May 15, 2018
Judson Board Member, Tracey Lind Named Honorary Chair of Cleveland Walk to End Alzheimer's
May 13, 2018
Judson Park Ranked #1 Most Popular Senior Living Community in Cleveland
May 8, 2018
Kendra J. Urdzik Named Judson Services President
April 17, 2018
Urdzik Named President and CEO of Judson Services
April 12, 2018
Arts for all: How Cuyahoga Arts & Culture helps local arts organizations meet special needs
April 11, 2018
Judson's Community Wellness Coordinator, Diane Menges Discusses Healthy Eating and Exercise Importance for Seniors
January 30, 2018
Kendra Urdzik Tapped To Lead Judson Services As Cynthia Dunn Announces June 1 Retirement
January 24, 2018
Judson Services President and CEO Cynthia H. Dunn to Retire This Summer
July 12, 2017
Judson Becomes First Comfort Matters Accredited Provider in Ohio
May 12, 2017
Baby Boomer Brings More Opportunities, Judson Manor Resident Says
For the Media
Thank you for visiting Judson's website. As a non-profit organization dedicated to bringing community to life with older adults for connection, engagement and support since 1906, we are happy to serve as a resource for news media needing help with a story.
Here is just a sampling of trends/topics where Judson can serve as an expert:
Cleveland/Northeast Ohio as a retirement living destination
Trends in fitness and wellness programs for older adults
Lifelong learning opportunities
Intergenerational programs
Tips for shopping for a retirement community
Retirement living in University Circle
Retirement living in Cleveland Heights
Retirement living in Chagrin Falls
You can also connect with us on Facebook, Twitter, LinkedIn or YouTube, or subscribe to our blog for more information.
---
Media Contact:
Kristina Kuprevicius
Director of Marketing
Office: (216) 791-2436
Cell: (216) 410-8677
communications@judsonsmartliving.org