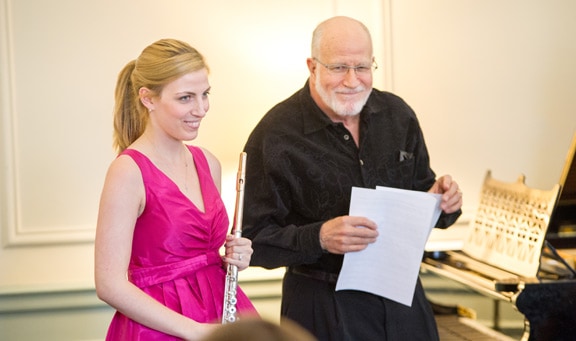 In 2010 Judson and the Cleveland Institute of Music (CIM) embarked on a ground breaking residential partnership where graduate-level CIM students began living at Judson Manor in University Circle. In exchange for complimentary living accommodations, the students provide cultural programming at all three of Judson's retirement communities.
An instant success, this intergenerational program has flourished beyond anyone's expectations. More than a convenient living arrangement, the students and residents have built meaningful friendships that trump generational gaps. While students share their musical talents, residents share art lessons, cooking tips, career advice, and even relationship advice – two of the young women got engaged while living at Judson.
Recently, Judson expanded the program to include undergraduate students from the Cleveland Institute of Art. In addition, Judson's partnership with Case Western Reserve University will offer similar opportunities to CWRU students.
For more information about Judson's Artist-in-Residence program and how it enhances the independent lifestyle at our communities, please call (216) 791-2004 or click here.
Media Coverage
Videos