Wed., May 14, 7:30 p.m.
Location: The Chataqua Room, South Franklin Circle
The South Franklin Circle Dialogue Series continues with Senator George Voinovich. Please join us for an intimate conversation with Senator Voinovich as he reflects on his career in politics.
South Franklin Circle
16575 S. Franklin Street
Chagrin Falls, OH 44023
Complimentary valet parking
About Senator George Voinovich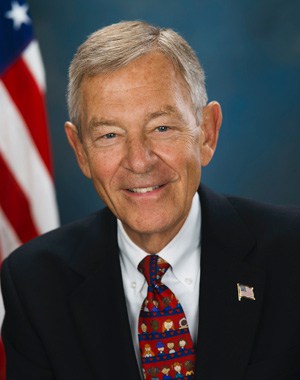 From his time as a member of the Ohio House of Representatives, Cuyahoga County Commissioner, Cuyahoga County Auditor, Lieutenant Governor of Ohio,Mayor of Cleveland and Governor of Ohio to his 12 years as Ohio's senior United States Senator, George Voinovich has strived for more than 40 years to make all levels of government "work harder and smarter and do more with less." As mayor of Cleveland, USA Today credited him with "turning the nation's 22nd largest city from a laughingstock in the 1970s into a three-time All-America
City winner during the 1980s".
As a United States Senator, Voinovich focused on four major areas: assuring fiscal responsibility, strengthening
national security, enhancing American competitiveness, and improving the management, efficiency, and effectiveness of the federal government. He came to be known as a "Debt Hawk" for his sustained leadership on improving fiscal discipline. Since retiring in January 2011, Voinovich has been named a Senior Fellow at Cleveland State University, and Ohio Visiting Professor of Leadership and Public Affairs at Ohio University.