Home Health Care Solutions
We Make It Easy to Maintain Your Independence in Your Own Home
For some people, there's no place like home.
If you prefer receiving healthcare and senior living services while remaining in your own home where you feel comfortable, safe and surrounded by a circle of friends and family, then Judson at Home is the right choice for you.
Independence With Peace of Mind
Judson Smart Living™ is a trusted not-for-profit organization serving older adults in Northeast Ohio for more than 100 years. Judson is committed to providing premier home health care services so people can remain independent in their home. Whether you decide to become a Member of Judson at Home and take advantage of all that Judson has to offer or if you need help from a professional caregiver through our home care program, we can help.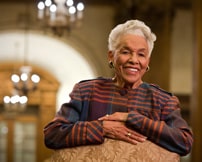 "I'm still in charge and in my own home."
Meet Judson at Home Member
Cris Branche.